Nigeria mystery over 'Balewa impersonator'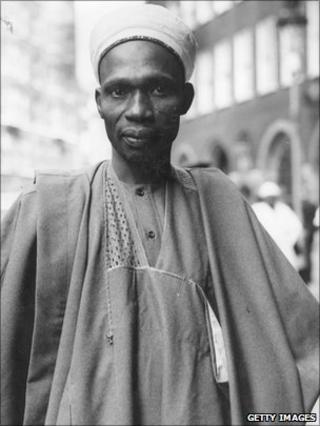 There is controversy in Nigeria about the identity of a man linked to the president who was kidnapped and freed in a dramatic rescue over the weekend.
Jhalil Tafawa Balewa, a key political ally of President Goodluck Jonathan, was abducted from his home on Friday.
It provoked widespread shock because he was believed to be the son of Nigeria's first Prime Minister, Abubakar Tafawa Balewa, who was assassinated.
But after his rescue, the Balewa family told BBC he was not related to them.
The man was trying to campaign for Mr Jonathan ahead of elections due early in 2011, even though the president has not said whether he intends to stand.
Police left nothing to chance to free a man widely believed to be the son of the country's first prime minister.
The gunpoint abduction of President Jonathan's political ally sparked a police operation ending in gunfire, deep in forests outside the capital.
"We staked out the forest undercover," says police spokesman Moshood Jimoh, describing the dramatic kidnap and twilight rescue.
"There was an arrangement to pay the ransom. Secretly, we were there."
Emotive issue
The victim was high-profile. Not only was he the leader of a sensitive campaign to drum up support for Mr Jonathan to stand for president next year, he also bore a revered name.
For those old enough to remember "The Golden Voice of Africa", Sir Abubakar Tafawa Balewa's name and his 1966 assassination evokes emotion.
So no resource was spared to ensure his safety.
But the sting operation, a shoot-out and the captive's rescue were just the beginning of a strange series of questions.
"He is not one of us," Saddik Abubakar Tafawa Balewa told the BBC, after the operation.
"He is neither the nephew, neither the son, neither the grandson of my father," the fourth son of late Sir Abubakar said.
"I am sorry to hear of anyone being kidnapped, but the time has come to be clear."
He said he spoke on behalf of the family: "He is not a member of our family, either by blood or by marriage."
He described how the Balewas had met the man several times, trying to establish his identity.
"We first heard of a person from America, going around the corridors of power, claiming to be a grandson. After that, he said he was a son," he remembers.
The family say they repeatedly asked for evidence, including DNA evidence, but none has been forthcoming.
Saddik Tafawa Balewa declined to speculate further, saying only: "We, as a family, feel exploited."
In 2008, the extended Balewa clan took out newspaper advertisements distancing themselves from Jhalil Tafawa Balewa.
'Goodluck For All?'
Political insiders are now scrabbling for information about the mystery kidnap victim of whom so little is known, and questioning how he secured such a sensitive role.
"You can't make mistakes like this," one long-time observer said, in disbelief.
No political adviser to the president has been available for comment about Jhalil Tafawa Balewa's identity.
He leads "Goodluck na Kowa", meaning Goodluck For All in Hausa, the language of the country's north.
The group is trying to grow support for the president, precisely where he faces his fiercest resistance.
With elections barely five months away, there is no word on whether the president will run, and he is severely hampered by his southern roots.
Nigeria's current political climate makes it almost impossible for any northern figure to support the president, and politically, the lure of the Balewa name may have seemed a gilt-edged opportunity.
For some, the explosion of unexpected questions over the man claiming the Balewa name are as revealing as they are fascinating.
"It all shows lack of experience, a sense of desperation," one analyst told the BBC.
"You need to know when you're being taken advantage of. How many more people are doing this to Jonathan?"
In the meantime, the main question echoing around Abuja is: "Who exactly is Jhalil Tafawa Balewa?"