South Africa bus collides with train killing children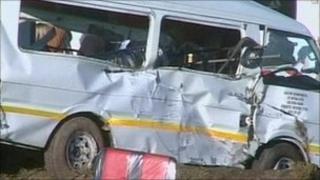 At least eight children have been killed and four injured in a collision between a school bus and a train in South Africa, local reports say.
The accident happened at a railway crossing near Cape Town when the driver drove round a closed gate, witnesses were quoted as saying.
A police spokesman also said the crossing's barriers were lowered at the time of the accident.
The bus driver was reported to have been seriously injured.
Police said an investigation was under way and that charges could be brought against the driver.
"The crossing is protected by road signs, flashing lights and booms, which were confirmed to be in working order," said a statement from railway officials.
The children were reported to be between the ages of eight and 11.
Grieving relatives gathered near the wreckage of the bus following the collision.
No-one in the train was injured.