South Sudan facing currency crisis over oil payments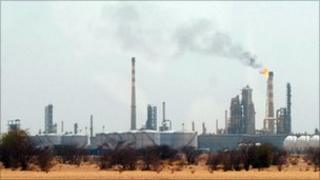 South Sudan has accused the north of switching payments of oil revenue from US dollars to the local currency in violation of their peace accord.
The change deprives the south of its major source of foreign currency, restricting the goods it can import.
North and south Sudan agreed to share the oil revenues equally when they signed the peace agreement in 2005, ending decades of civil war.
South Sudan is due to hold a referendum on independence in January 2011.
'Sinister ploy'
Sudan is sub-Saharan Africa's third biggest oil producer, and when the authorities in the north and the south signed their landmark peace agreement five years ago they agreed to split revenues from the industry.
However, while the bulk of the oil lies in the south, the north controls the refineries, the ports and the payments, says the BBC's Peter Martell in the southern capital, Juba.
Last month, the government in Khartoum introduced restrictions on foreign-currency sales to prevent shortages, and began transferring oil revenue payments to the Bank of Southern Sudan in Sudanese pounds.
On Monday, Southern Finance Minister David Deng Athorbei accused the north of a "sinister" ploy to weaken the semi-autonomous region's economy.
"As a result of this action, the foreign-exchange reserves of the Bank of Southern Sudan have been seriously depleted," he said in a statement.
"The Bank of Southern Sudan is unable to supply banks and foreign-exchange bureaux with foreign currency, and meet the foreign-exchange needs of the government of Southern Sudan."
He said the change in payments amounted to a deliberate breaking of the peace deal, which stipulated that the revenues be paid in hard currency.
Our correspondent says oil revenue accounts for some 98% of the south's estimated $1.9bn budget, and without the hard currency it will struggle to afford key imports upon which it depends.
Unless the policy was changed, the damage to the South's economy would be "great", Mr Athorbei warned.
The dispute is also another worrying sign of the bitter tensions that remain between north and south, even as they try to work towards negotiating a new revenue-sharing agreement for after the referendum, in which southerners are expected to vote to secede, our correspondent adds.