Q&A: Charles Taylor on trial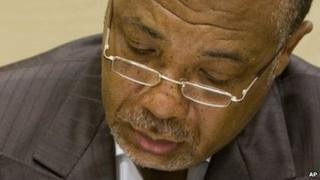 Liberia's former President Charles Taylor is beginning a 50-year jail sentence on charges of aiding and abetting war crimes during the brutal civil war in neighbouring Sierra Leone.
He is the first former head of state to be convicted of war crimes by an international court since the Nuremburg trials of Nazis after World War II.
Who is Charles Taylor?
Charles Taylor started Liberia's civil war as a warlord in 1989, and was elected president in 1997.
He governed for six years before being forced into exile in Nigeria.
In August 2003, with rebels already in the capital, he agreed to a deal to go to Calabar in southern Nigeria to end the conflict.
What was he convicted of?
He faced 11 charges of war crimes and crimes against humanity over his alleged role in the brutal civil war in neighbouring Sierra Leone, where he was accused of backing rebels responsible for widespread atrocities.
The judge at the United Nations-backed Special Court for Sierra Leone found that Taylor did not command the rebels, as the prosecution had alleged.
But he said that Taylor had sold diamonds for, and supplied weapons and fighters to, Sierra Leone's Revolutionary United Front rebels, who were notorious for hacking off the hands and legs of civilians during their decade-long war.
Taylor knew full well that they committing atrocities against the civilian population and so shares criminal responsibility, the court in The Hague found.
He had argued that he only dealt with the rebels in order to facilitate peace talks but the judge found that, at the same time Taylor had in fact been secretly urging the rebels not to disarm and to continue the attacks.
Did the Sierra Leone conflict affect other countries too?
As well as Liberia, instability also spread into neighbouring parts of Ivory Coast and Guinea.
Human rights activists have accused Taylor of being at the centre of a West Africa-wide web of armed groups.
The court's chief prosecutor once said Taylor was the third most wanted war crimes suspect in the world.
But he was not charged over the conflict in Liberia or other countries.
How did the trial come about?
Charles Taylor was given asylum in Nigeria in order to end Liberia's civil war.
Human rights groups accused him of breaking the terms of that deal by continuing to meddle in Liberian politics.
Nigeria always said it would not extradite him to Sierra Leone, but would send him back to Liberia after the two-year transitional period if the new government there requested it.
Liberia's President Ellen Johnson-Sirleaf took office in January 2006 and made an extradition request shortly afterwards.
A few months later, Nigeria's then President Olusegun Obasanjo said that Liberia's new government was free to take Taylor into custody.
Then he disappeared.
However, he was recaptured and Nigeria repatriated him to Liberia and a UN helicopter took him to Sierra Leone and into the custody of The Hague tribunal.
His arrest was greeted as a sign that African warlords would no longer enjoy impunity.
Why was the trial held in The Hague?
Taylor was judged in The Hague, not by the International Criminal Court but by the Special Court for Sierra Leone.
This court was supposed to hold all of its proceedings in Sierra Leone, to allow victims of these alleged crimes to see justice at work.
However, the case was moved to the Netherlands in case the hearings sparked fresh instability in Sierra Leone and Liberia.
Before the transfer, a court in Freetown heard the 11 charges against Taylor.
Why did supermodel Naomi Campbell appear at the trial?
Ms Campbell told the court she received "dirty-looking stones" from Charles Taylor in September 1997, after both attended a star-studded charity dinner given in South Africa by the then President Nelson Mandela.
A fellow guest at the dinner, US actress Mia Farrow testified she had heard Taylor say he was going to give Ms Campbell some diamonds, and that Ms Campbell said she had received a "huge diamond" from Mr Taylor.
The existence of the diamonds was an important part of the prosecution's case, as he was accused of carrying so-called blood diamonds with him to pay for weapons for the rebels.
Ms Campbell said she gave the diamonds to a friend, Jeremy Ratcliffe, who was then chief executive of the Nelson Mandela Children's Fund.
He held on to the stones, handing them over to police after Ms Campbell's testimony. He said he had stowed them away in a safe for 13 years because he feared they were illegal.
Mr Ratcliffe was later cleared on charges of possessing uncut gems, which are now property of the South African government, the New York Times reports.
What happens next?
Taylor was sentenced to a 50-year jail sentence on 30 May 2012.
His appeal was rejected on 26 September 2012.
Taylor will be moved to a prison outside the Netherlands, as the Dutch government only agreed to host his trial if any ensuing jail term was served in another country. The UK is one possibility - Sweden and Rwanda have also offered to take him.