Rwandan Ntawukulilyayo gets 25 years for genocide crime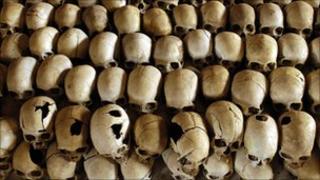 The United Nations tribunal for Rwanda has sentenced a Rwandan former official to 25 years in jail for his role in the 1994 genocide.
Dominique Ntawukulilyayo, 68, was accused of transporting soldiers to an area of the southern Gisagara district where Tutsis had taken refuge.
Thousands of people who had been promised protection were killed.
About 800,000 Tutsis and moderate Hutus were killed by Hutu militias in 100 days during Rwanda's genocide.
Ntawukulilyayo was indicted by the indicted the International Criminal Tribunal for Rwanda (ICTR), which is based in Tanzania, in 2005 and was arrested in December 2007 in Carcassonne in France.
He fought his extradition but transferred to the ICTR in June 2008.
Ntawukulilyayo, who was the deputy administrator of Gisagara district during the genocide, was acquitted of other charges of complicity in genocide and direct and public incitement to commit genocide.
Ntawukulilyayo's lawyer told AFP news agency that he would appeal against the verdict.
"This ruling which was not reached unanimously opens the possibility that Dominique Ntawukulilyayo has high chances of getting an acquittal on appeal," Maroufa Diabira said.