UN urges Saudi Arabia to stop expelling Somalis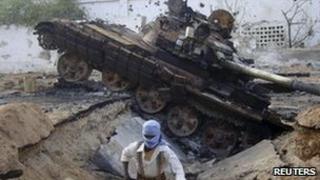 The UN refugee agency has urged Saudi Arabia to stop deporting Somalis, saying 2,000 people have recently been sent to Mogadishu.
The UNHCR says those forced back to the Somali capital are at risk.
There is almost daily fighting there between Islamist militants and government troops backed by African Union peacekeepers.
The UNHCR has asked all countries not to deport people to south and central Somalia.
Most of this region is under the control of the al-Qaeda-linked al-Shabab group and its allies.
The government only runs a few parts of the capital.
"Given the deadly violence in Mogadishu, UNHCR is urging the Saudi authorities to refrain from future deportations on humanitarian grounds," said the agency's spokeswoman Melissa Fleming.
Many Somalis escape the conflict at home by paying people-smugglers to take them across the Gulf of Aden to Yemen.
Some then carry on to Saudi Arabia.
Mogadishu and much of southern Somalia has been wracked by violence for almost two decades.