Zuma abolishes six traditional South Africa monarchies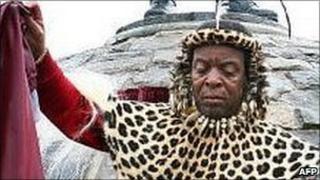 Six of South Africa's 13 traditional monarchies will no longer be recognised, the government says.
A six-year government study concluded that some had been created by the country's former apartheid administration to divide the people.
President Jacob Zuma said the move to halve the number of those recognised would correct "the wrongs of the past".
Zulu King Goodwill Zwelithini and Xhosa King Zwelonke Sigcau are among the seven who will remain in place.
The other six monarchies would end when the incumbent ruler dies, Mr Zuma told reporters.
Arbiters
The ruling will save the country money, as each king receives an annual subsidy, says the BBC's Africa analyst, Martin Plaut.
Before South Africa's first democratic elections in 1994, some of the royals were appointed by the government despite having few legitimate claims to the throne.
"The apartheid regime created its own traditional leadership at the expense of authentic leadership in some communities," AFP quoted Mr Zuma as saying. "It was how those in charge divided and disunited people.
"We urge all communities to accept the findings in the spirit of correcting the wrongs of the past, and as part of the country's nation-building efforts."
While the monarchies have little real political power, they remain important cultural figures, analysts say, and can act as arbiters in local disputes.