South African unions threaten to strike 'in seven days'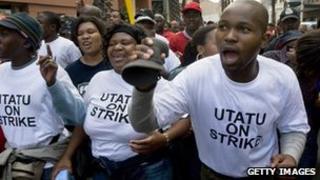 South African public sector workers have told the government they will go on strike in seven days if their pay demands are not met.
The coalition of unions, representing as many as 900,000 people, has said it will walk out indefinitely.
The unions turned down an above-inflation offer last week.
During the World Cup last month transport and power supply worker unions won pay rises after threatening to strike during the tournament.
This time unions representing most government employees, including police, doctors, nurses, teachers and office workers are involved.
Housing allowance
"We have now come to a firm conclusion that we go on strike," said Slovo Majola, a member of the negotiating team of the coalition of unions.
Last week the public sector workers' unions turned down an above-inflation 6.5% wage increase.
They are demanding an 8.6% increase and a monthly housing allowance of 1,000 rand ($130; £83).
Their demands are almost twice the annual rate of inflation, which slowed to 4.2% in June it was reported.
Workers at state power utility Eskom won a 9% pay rise during the World Cup.
Transport sector workers won a similar settlement in May after a three-month strike cost nearly $1bn (£640m) in lost revenue.