Booby-trap bomb found in volatile Nigerian city of Jos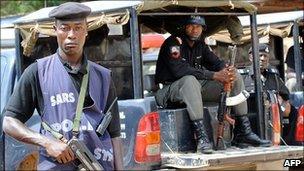 Nigerian police are searching the troubled city of Jos after a booby-trap bomb was found in a house abandoned during recent clashes.
Part of the Nassarawa Gwom area has been cordoned off and bomb disposal officers are searching homes and buildings.
Jos has been at the centre of communal violence in central Nigeria which has claimed up to 1,000 lives this year.
Police say the house was rigged with a large quantity of dynamite.
Plateau State Police Commissioner Iyke Aduba told the BBC there would have been "a major catastrophe," if the bomb had been triggered.
"Our technical experts who examined it, say if this device had detonated, the two-storey building would have come down."
The bomb has now been defused, he said.
The house was one of hundreds of buildings abandoned after the first outburst of killing in Jos in January.
Hundreds of people died in days of rioting and burning.
The BBC's Caroline Duffield in Lagos says many of the homes in the city's flashpoints now stand empty.
It is thought this device was designed to discourage people from returning to their homes.
The police say they are on red alert and have mounted a heavy presence in the city.
A 200m-exclusion zone has been set up around the building and detectives are now examining other houses in the area.
Jos lies on the fault-line between Nigeria's mainly Muslim north and its largely Christian and animist south.
Although the clashes take place between rivals gangs of Muslims and Christians, observers say the underlying causes are economic and political.
Last weekend, at least eight people, including the family of a Christian priest were killed in an attack by machete-wielding assailants on a village near Jos.
There have also been deadly riots in 2001, 2008 and 2010, which left hundreds of people dead.