Ugandan peacekeepers killed in Somalia clashes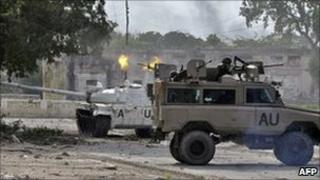 Two Ugandan soldiers from the African Union peacekeeping force in Somalia have been killed in fighting in Mogadishu, the AU says.
An AU spokesman said the two were killed when the al-Qaeda linked al-Shabab group attacked their base in north-eastern Mogadishu.
Earlier this month, at least 70 people were killed when al-Shabab launched two attacks in the Ugandan capital.
The AU force is helping the UN-backed government against al-Shabab.
African foreign ministers are in the Ugandan capital, Kampala, discussing what the AU can do to tackle al-Shabab.
They are preparing for next week's summit meeting of AU heads of state.
After the Kampala attacks, Uganda's President Yoweri Museveni vowed to eliminate al-Shabab, saying the AU would send 20,000 troops to Somalia - up from the current force of 5,000.
Only Uganda and Burundi have contributed troops to the AU force, known as Amisom.
Other countries have failed to deliver on promises to send peacekeepers to Somalia, which has been in a state of anarchy for two decades.
The UN has agreed in principle to take over the mission but has not yet set a date.
Al-Shabab and its allies control most of southern Somalia.
This week has seen an upsurge in fighting in Mogadishu, which has left at least 14 people dead.
The AU force says it has been moving out of its base in central Mogadishu to take control of other suburbs.