France targets 'al-Qaeda militants' in Mauritania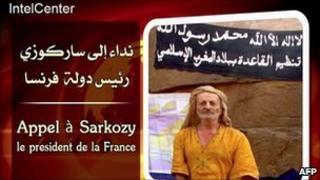 France has confirmed it took part in a raid against alleged al-Qaeda militants alongside Mauritanian troops.
France said it had provided "technical and logistical" support in the raid, in which several suspected militants were reportedly killed.
The group targeted has refused to negotiate over a French hostage kidnapped in the region in April, the French defence ministry said.
It said the raid was aimed at stopping an attack against Mauritania.
Spanish reports said a raid to free the hostage, Michel Germaneau, had failed.
Al-Qaeda in the Islamic Maghreb (AQIM) had threatened to kill Mr Germaneau.
It was not immediately clear where the raid had taken place, though Reuters news agency cited Malian officials saying that military aircraft had been coming and going and shots had been fired in the north of Mali.
Western nations have been training security forces in West and North Africa to help them tackle AQIM but they do not normally admit being involved in operations.
'Neutralised'
AQIM has been blamed for a number of kidnappings and attacks in the Sahel region around the Sahara desert, in countries including Mauritania, Mali and Niger.
Last year it claimed responsibility for executing a British hostage, Edwin Dyer.
"The terrorist group targeted by the Mauritanian army is the one that executed a British hostage a year ago and has refused to give a proof of life or engage in negotiations to release our compatriot Michel Germaneau," a French defence ministry statement said.
"The operation conducted by Mauritanian troops was able to neutralise the group of terrorists and to prevent the planned attack against Mauritanian targets," it said.
An unnamed Mauritanian official told AFP news agency that several suspected militants had been killed in the attack, though he did not confirm reports in Spanish newspapers ABC and El Pais that the raid was aimed at liberating Mr Germaneau.
Mr Germaneau was abducted in a remote part of northern Niger along with his Algerian driver, who was later freed.
AQIM emerged from a group of Algerian militants who had been fighting the government there in the 1990s.