Botswana bushmen lose right to Kalahari water well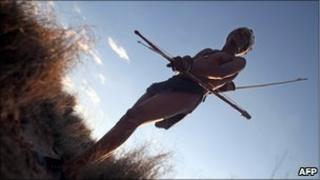 San bushmen in Botswana have lost a court case to allow them to re-open a vital waterhole in the centre of the Kalahari desert.
Diamonds were found in the Central Kalahari Game Reserve, traditional home to the bushmen, in the 1980s - and the government asked them to leave.
In 2006 they won the right to return and hunt without permits, but many of them still live outside the reserve.
Water tankers, which used to serve the community, no longer enter the reserve.
The BBC's Letlhogile Lucas in Gaborone says the borehole in question was used by De Beers, the world's largest diamond producer, when it was prospecting for minerals in 1985.
The San bushmen community of Mothomelo had filed an application to be granted permission to equip and use the borehole.
A judge ruled that the bushmen were not entitled to do this, or to drill a new one.
Their lawyer, Seranne Junner, says the ruling was disappointment for the San community.
"They usually have to travel approximately 40km (25 miles) to fetch water from the nearest available source, and unfortunately it's too far to go with livestock," she told the BBC.
"They don't have motor vehicles at their disposal - and when they can get vehicles it's a very rough track, and that's what's leading to the suffering."
The ruling means the San bushmen in the reserve will have to depend on erratic rains and melons for water.
Human rights activists have urged the authorities to find a lasting solution to the bushmen's rights without resorting to lengthy litigation, our reporter says.