Darfur Jem rebels sign deal to stop child soldiers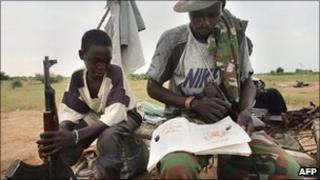 A Sudanese rebel group has signed an agreement to allow the UN access to its bases to check children are not being recruited as soldiers.
The Justice and Equality Movement (Jem) told the BBC it had been trying to protect children since the beginning of the seven-year conflict in Darfur.
The UN said children found in military areas or in conflict zones could be removed under the deal.
An estimated 6,000 children have been involved in fighting in Darfur.
The BBC's Imogen Foulkes in Geneva says the UN children's organisation Unicef has hailed the agreement, which took more than a year to negotiate, as a very valuable precedent which it hopes other rebel groups would follow.
Jem leaders, who travelled to Geneva for the signing, said the movement had no child soldiers but agreed to it as a gesture of goodwill.
"Jem has no child soldiers actually in its forces at all - and now Unicef has full access to our camps to verify," Jem spokesman Ahmed Hussain Adam told the BBC's Network Africa programme.
Fighting intensified in Darfur in May after Jem pulled out of peace talks with the government, accusing it of acting in bad faith.
Arrest call
On Tuesday, Sudan's government expelled two of the most prominent rebels from neighbouring Chad ahead of a visit by President Omar al-Bashir to Chad.
The two countries have long accused each other of backing one another's rebel forces along the Darfur border, but have recently repaired ties.
In May, Jem's leader was prevented from entering Chad while en route from Libya to Sudan.
US-based Human Rights Watch has called for Chad to arrest Mr Bashir, who is wanted by the International Criminal Court for genocide and war crimes in Darfur, which he denies.
It is his first trip abroad since the genocide charge was added to his indictment earlier this month - and is the first time he has travelled to a country which is a full ICC member.
The ICC has no police force and relies on member states for arrests.
The conflict between rebels and government-backed militias in Sudan's western region is estimated by the UN to have cost the lives of 300,000 people and driven 2.7m people from their homes.
The government puts the death toll at 10,000 and has said the problems in Darfur have been exaggerated for political reasons.