Guantanamo prisoners released to Algeria and Cape Verde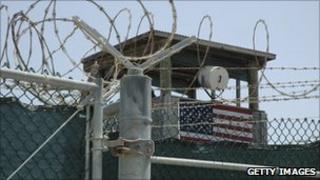 Two men held in Guantanamo Bay for nearly eight years have been released to Africa, the Pentagon has announced.
Abdul Aziz Naji has been repatriated to Algeria - against his will, according to human rights groups, who say he fears persecution.
Meanwhile Abd-al-Nisr Mohammed Khantumani, of Syria, has been transferred to the island of Cape Verde, West Africa.
There are 178 detainees remaining at Guantanamo.
'Militant threat'
Mr Naji had been held at Guantanamo since 2002. The US government had alleged that he belonged to the Lashkar-e-Taiba militant group in Pakistan.
But the New York-based Center for Constitutional Rights said he has "long been cleared of any connection with terrorism."
"We are deeply concerned that he will disappear into secret detention and face the threat of persecution by terrorist groups in Algeria," said the centre, which has represented many Guantanamo detainees.
In a statement, the Pentagon said the transfer was coordinated with the government of Algeria to ensure it took place under "appropriate security measures."
Mr Khantumani, from Syria, is the first Guantanamo inmate to be resettled on Cape Verde.
He had been detained in Guantanamo along with his father since 2002, when he was only 17, according to the Center for Constitutional Rights. They argued that it was too dangerous to send Mr Khantumani back to Syria.
The transfers bring the number of remaining detainees at Guantanamo to 178, down from 245 when President Obama took office in January 2009.
He vowed to close the detention centre within a year of his inauguration but was unable to meet his own deadline.
In all, some 780 prisoners have been held at Guantanamo since it opened in 2002.
Foreign suspects were given the right to challenge their detention at Guantanamo in the civilian courts in June 2008, by a US Supreme Court ruling.