Kenyan pastor charged over 'referendum bomb plot'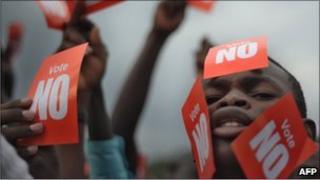 A Kenyan pastor has pleaded not guilty to two charges over an alleged plot to bomb a campaign rally for next month's constitutional referendum.
John Kamau Mbugua and two other men were arrested on Saturday, allegedly in possession of fertiliser and a detonator.
Police say he was planning to travel to Mombasa, where churches had helped organise a rally for the "No" campaign.
Last month, a grenade attack on a similar church rally led to six deaths.
Ahead of the 4 August referendum, some fear a new outbreak of political violence.
Three MPs, including as assistant minister were last month charged with hate speech over their campaigns against the referendum.
Some 1,300 people were killed and 300,000 forced from their homes after the disputed December 2007 elections.
In court, Mr Mbugua said he was a pastor with the local Victory Church, although church officials say he was excommunicated three years ago.
The two others pleaded guilty to possession of explosives but denied charges of planning injure members of the public. They said the explosives were to be used in a quarry.
Mr Mbugua is also a local official with President Mwai Kibaki's Party of National Unity (PNU).
Both President Kibaki and Prime Minister Raila Odinga are campaigning in favour of the draft constitution.
They agreed to share power in 2008 in order to end the post-election violence but their alliance remains shaky.
Some churches oppose the draft constitution because it recognises Muslim courts.
The document provides for greater checks on presidential powers and more regional devolution.
It also recognises the UN human rights charter and creates a second parliamentary chamber - the senate.