Guinea: Ex-president's son Ousmane Conte freed on bail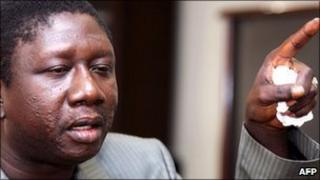 The eldest son of Guinea's late leader has been freed after spending 16 months in jail for alleged drug trafficking.
His lawyer told the BBC that Ousmane Conte was released on bail pending further legal action.
He was arrested two months after the military seized power on his father's death.
Last month he was named by the US as a "drugs kingpin" and admitted on live television his trafficking involvement but said he was not a "ringleader".
Guinea, like other West African states, is known to be a transit point for smuggling cocaine from Latin America to markets in Europe.
Under the Unites States' Drug Kingpin Act, financial sanctions are imposed on suspected drug traffickers and US citizens are barred from doing business with them.
His lawyer denied Mr Conte owned property in the US.
"The Conte son is certainly being prosecuted for the alleged smuggling of drugs but I say loudly and clearly that he is not known for international drug or cocaine trafficking," Barry Tafsir is quoted by the AFP news agency as saying.
Mamady Kaba, head of Guinea's Encounter for Human Rights, said he was worried about the latest development.
"We don't know what motivated the release at this time," he told the BBC's French Service.
Mr Kaba said Guinea's justice system needed to be tough in its approach to drug trafficking and he hoped the case would not be dropped.
The West African nation is currently between rounds of a presidential election intended to hand power back to civilian rule.
President Lansana Conte died in December 2008 after ruling the mineral-rich country for 24 years.