DR Congo offensive against ADF rebels: 'Thousands flee'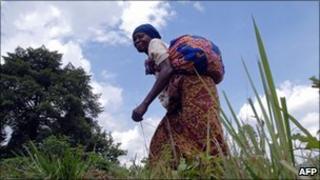 About 40,000 people have fled their homes in the north-east of the Democratic Republic of Congo following fighting, UK charity Oxfam has said.
The violence erupted at the end of June when the army went on the offensive against Ugandan rebel group ADF-Nalu which is based in DR Congo.
An Oxfam spokeswoman told the BBC that whole villages had been burned down.
DR Congo agreed with Uganda earlier this year to go after all armed groups in the east of the country.
The offensive was intended to root out all "negative elements", Kinshasa said at the time.
Eastern DR Congo, which has proliferation of rebel groups, has seen severe fighting in recent years and nearly two million people have been been forced from their homes.
The UN says some of those fleeing the recent fighting are heading towards the town of Beni in North Kivu province.
BBC Africa analyst Martin Plaut says ADF-Nalu members, who had been in the area for many years and were reported to have been living peacefully among the local villagers, reacted violently to the offensive.
"There are now skirmishes between the Congolese and the militia groups and my colleagues in the area tell me that they're now estimating the number of displaced at 40,000," Oxfam's Elli Kemp said.
She said the Congolese army is so poorly disciplined that any offensive is likely to be accompanied by rape, extortion and other atrocities.
According to the Institute for Security Studies in South Africa, the ADF-Nalu is a coalition of two armed movements opposed to the Ugandan government, which were mainly active in the 1990s.
It said the group had entered peace talks with Kampala under the auspices of the UN peacekeeping mission last year.