Syria: Food aid to 3m people at risk after UN stalemate
By Anna Foster
BBC News, Reyhanli, on the Turkish border with Syria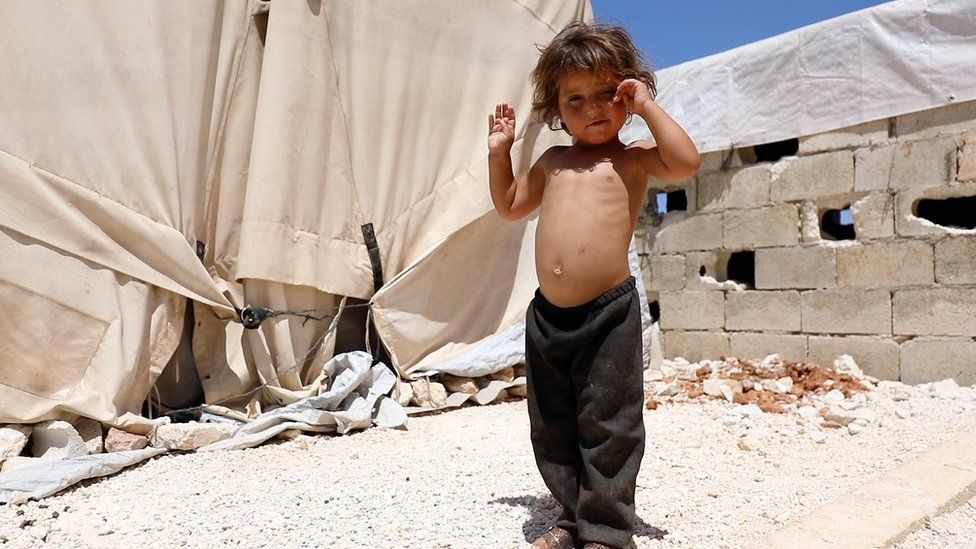 Russia has vetoed a UN Security Council resolution reauthorising cross-border deliveries of vital aid into opposition-held north-western Syria. The closure of the last route from Turkey puts more than three million people at risk of starvation. The BBC's Anna Foster has been following one of the last UN aid convoys to be allowed into the country.
Umm Ali carefully boils a pot of water to cook dinner for her seven children. She feeds the fire with scraps of cardboard and rubbish, whatever she can find to keep the flames going. The meal she makes is small and basic, because here at the Al-Sadaqah camp, in the Idlib countryside, supplies are scarce. She's thankful for the food aid she receives, but even that isn't enough.
"Every day the kids go to the landfill to collect aluminium cans, nylon bags and iron. They sell them for a pittance, it's just enough to buy four packets of bread. That's only enough for one meal, our breakfast," she says.
Umm says she's thankful for the food aid she receives, but even that isn't enough. Now those parcels are set to stop altogether.
The UN says the number of Syrians in need is higher now than at any point during the 11-year civil war, as the toxic mix of years of fighting, the Covid-19 pandemic and the war in Ukraine have devastated the country's economy. The World Food Programme (WFP) says the cost of food has risen by 800% in just two years.
The huge cross-border operation, which was set up in 2014, only exists because of a UN mandate which allows it to happen without the permission of Syrian President Bashar al-Assad, Russia's ally.
It was scheduled for renewal in a Security Council session in New York on the morning of 7 July, but as the day went on, the timing persistently slipped. By early evening, diplomats admitted they'd have to move the vote into the next day, which should have been a scheduled holiday for Eid al-Adha.
In the end, there were two votes. The first was on a compromise drafted by Norway and Ireland. It would have seen a six-month extension, automatically renewed for a further six unless a member chose to end the agreement. But that was vetoed by Russia.
Moscow put forward an alternative proposal, a six-month extension that would require active renewal in January 2023. The UK, US and France voted against it, and others abstained.
NGOs have been quick to respond, saying the result is devastating.
Tamer Kirolos, Syria response director at Save the Children, has urged the Security Council to reconvene and reverse their decision.
"Make no mistake, the Council's failure to reauthorise this crossing risks the lives of hundreds of thousands of children - children who have known nothing but conflict and life in camps," he said.
And Tjada D'Oyen McKenna, chief executive of Mercy Corps, said that politics had trumped critical aid for vulnerable Syrians.
"Today the United Nations Security Council failed the people of north-west Syria. Millions of people are left in limbo, not knowing how they will receive life-saving aid as food prices increase, conflict continues and economic stagnation grinds on," she said.
The UN administers aid transfers into the north-west of the country because it lies outside Syrian government control, in the hands of the jihadist alliance Hayat Tahrir al-Sham and Turkish-backed rebel groups.
The Syrian regime has only facilitated a small amount of what is called "cross-line" aid. That means it crosses the front lines within a country, rather than going over international borders.
This is what Russia has been pushing for as a future solution. Moscow believes President Assad's sovereignty takes precedence and that the job of providing aid should lie in Syrian hands. But WFP food aid that has come via Damascus has fed fewer than 50,000 people. From the hub at the Turkish crossing, the UN and its partners sustain 1.4 million.
For the last two years, Bab al-Hawa has been the only aid route left. There used to be others, allowing lorries to arrive in Syria from Iraq and Jordan. But Russia already used its veto to close them down.
As a permanent member of the UN Security Council - along with the UK, US, France and China - it can block any mandate it chooses. Just a few months ago, it rejected a resolution that condemned Russia's invasion of Ukraine and called for a withdrawal of troops.
Exactly a year ago, there were again fears that the Bab al-Hawa crossing would be closed. But this time around the story wasn't only about Syria.
In 2021, last-minute, high-level diplomacy between US President Joe Biden and his Russian counterpart, President Vladimir Putin, kept the aid route open. But a lot has happened in the last 12 months. US-Russia relations are at their lowest ebb for decades, fractured further by the war in Ukraine.
The fact that the timing of this year's vote in New York kept slipping - because agreement couldn't be reached - highlights how difficult relations between Russia and other Security Council members have become. Just days before Joe Biden's headline visit to the Middle East, it also risks highlighting dwindling US influence in the region, set against increasing Russian sway.
The logistical effort needed to ferry aid from Turkey to north-west Syria is huge. About 1,000 lorries loaded with food, temporary shelters, or vital medicines make the journey across the border every month, and have done since 2014.
In the last few weeks, there have been more than usual. Aid agencies were so concerned about the potential of the crossing being closed that they have been sending extra shipments to build up a small surplus on the other side.
At the Bab al-Hawa crossing, they pass straight through, without being stopped like most other vehicles. When they drive under the golden dome-topped arches of Gate Zero, they are on Syrian soil. Once they arrive at their destination, aid agencies unpack the food and distribute it to displaced families.
This is a long conflict, and many people here have been living in makeshift tents for more than a decade. Children were born here and are being raised here. The tattered canvas tents of the displacement camps are the only home they have ever known.
Umm Ali was one of many Syrians desperately hoping the aid would keep coming.
"Of course we consider it something important and crucial, because we don't have money or work to secure food here," she says.
The future for her, and millions of other displaced families in north-west Syria, is now more uncertain than ever.