Oslo attacks: Pride protesters defy Norway police warnings
By Leo Sands
BBC News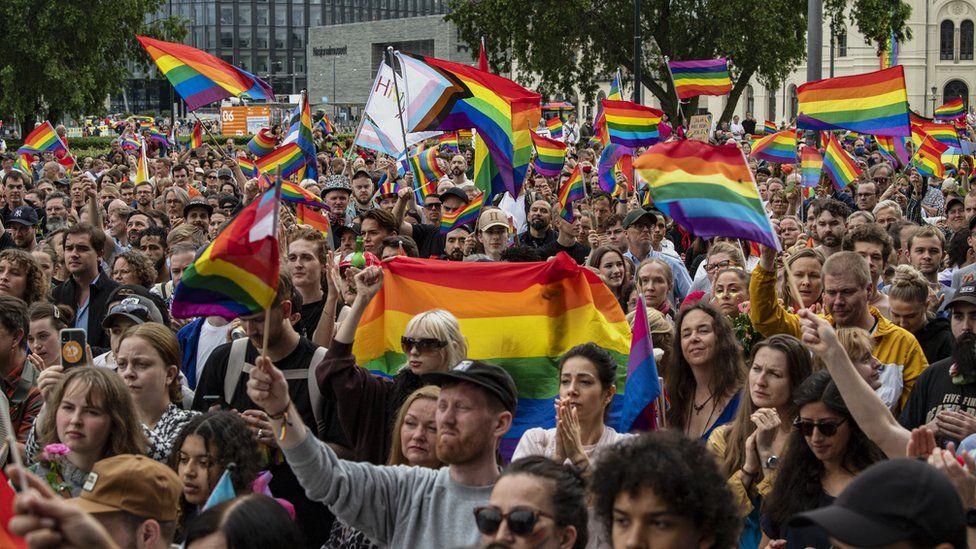 Pride protesters in Norway have defied police by holding an LGBT rally in Oslo days after a queer venue in the capital was the target of a deadly attack.
Police described the attack as "Islamist terrorism" and said all upcoming Pride events should be cancelled for safety reasons.
Extremists consider LGBT people "the enemy", the national police chief said.
Law enforcement officials requested that all Pride events be indefinitely postponed on Monday because the gatherings remained a target.
"The threat-assessment is still standing. We have an unclear terror situation," Oslo police official Martin Strand pleaded on Monday, urging people not to attend an event outside Oslo's city hall to remember the victims of Saturday's attack.
But thousands ignored that advice and gathered there anyway, holding up placards with defiant messages such as "you can't cancel us" and "sexual freedom".
"I feel much safer here than anywhere else right now," protester Marie Sværen told Norwegian public broadcaster NRK at Monday's unofficial rally.
Another attendee Rain Vangen Dalberg explained her decision to attend: "It is to show that the fight is progressing."
Other activists criticised the police's attempt to cancel the event, arguing it was the police's job to protect people from extremists rather than cave in to their wishes.
The shootings happened in the early hours of Saturday in and around Oslo's London Pub - a popular LGBT venue - the Herr Nilsen jazz club, and another pub.
On Monday, Oslo District Court remanded in custody for four weeks the 43-year-old suspect accused of carrying out Saturday's deadly attack.
Zaniar Matapour, who has been charged with terrorist acts, murder, and attempted murder, has been ordered to have no contact with the outside world in that time.
Police said they were still investigating Mr Matapour's motive and that the suspect had so far refused to be interrogated.
The country's intelligence services has described the attack as "an act of Islamist extremism".
The suspect had been known to Norwegian intelligence since 2015, with concerns about his radicalisation and membership of "an extremist Islamist network".
Last month intelligence officers interviewed him but did not detect any "violent intent".
Eyewitnesses said the attacker took out a gun from his bag and started firing in and around three venues on Saturday in Oslo's city centre, forcing terrified people to either throw themselves to the ground or flee.
The attacker was arrested by police officers minutes later, helped by bystanders. Two weapons were retrieved at the crime scene by police, one of them a fully automatic gun.
On Saturday the terror alert level in Norway was raised to its highest level.