Four rare male corncrake birds recorded on Rathlin Island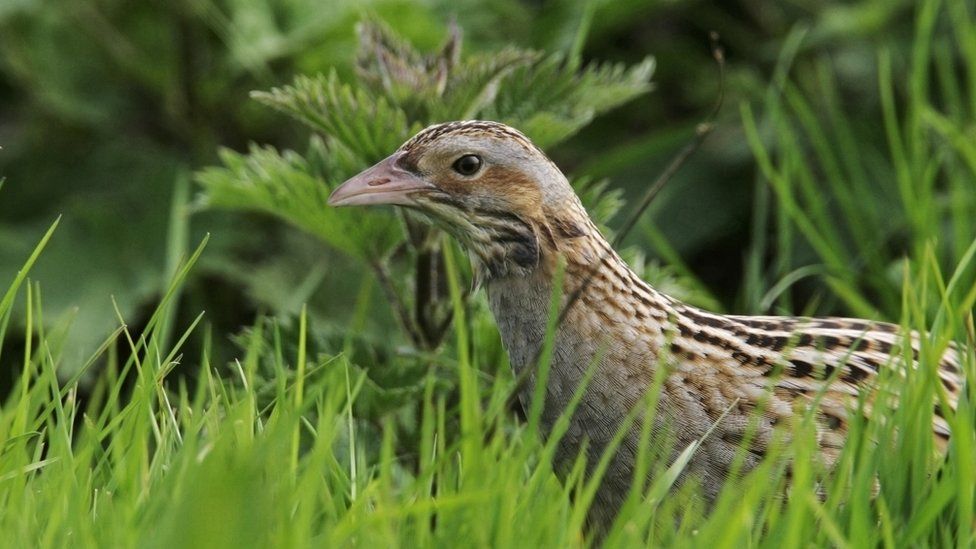 Four rare male birds have been recorded on Rathlin Island, off the County Antrim coast.
It is the highest number of calling male corncrakes to be confirmed on the island in about 40 years.
The corncrake is one of NI's rarest birds, known for its distinctive call.
Rathlin is the only place in NI where the species can be found, and is the focus of conservation efforts by the Royal Society for the Protection of Birds NI (RSPB NI).
'Over the years, I could see the decline happening before my eyes; the corncrakes just weren't there any more. So to have four birds is quite something,' says our Rathlin warden Liam. Listen to a corncrake call below and read more about the good news here: https://t.co/eFcSsVIT4k pic.twitter.com/muX9ppOaxs

— RSPB NI (@RSPBNI) May 6, 2021
Two males arrived on the island late last month, and appear to have attracted mates, RSPB NI said.
Another two males were recorded on Wednesday.
If this new pair establish themselves, it will be a significant step to building a sustainable population on the island, according to RSPB NI.
Rathlin Island warden Liam McFaul grew up hearing corncrakes singing out in the fields.
But the population has been in decline since the 1980s.
Mr McFaul said: "Over the years, I could see the decline happening before my eyes; the birds just weren't there anymore.
"So much of our work has been about trying to turn the tide.
"We've worked closely with landowners and with all the habitat work we eventually had one bird coming back, then a few years later two birds, then one and now it's up to four.
"So we've been working towards this for a long time."
This week a male and female were spotted side-by-side - a rare sighting as the birds live in deep vegetation and are rarely seen.
The hope is to have four or five pairs regularly breeding on Rathlin.
Corncrakes have two broods: the first in June and the second in late July or early August. After the second brood hatches, the birds will migrate back to Africa in August or September.
RSPB NI has asked members of the public not to try to get close to the birds, who are "easily spooked".
"It is vitally important they are not disturbed and that this sensitive conservation effort is not compromised."