Covid child brides: 'My family told me to marry at 14'
By Eva Ontiveros
BBC World Service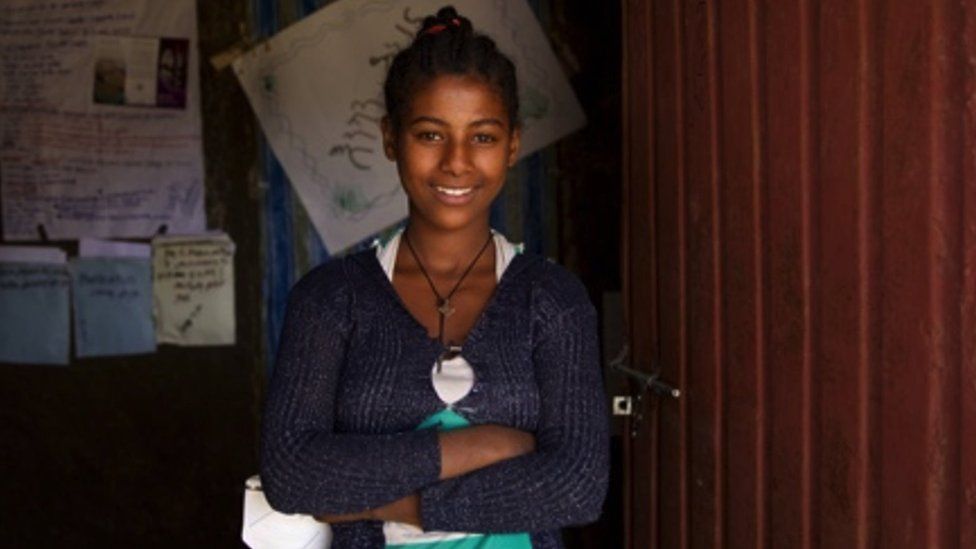 A new Unicef report released on Monday suggests millions more underage girls are at risk of being forced into marriage around the world due to the coronavirus pandemic.
"My family told me I shouldn't say no to such an offer, as the boy who wanted to marry me was from a wealthy family," 14-year-old Abeba told the BBC.
Only a few months ago, she was under a lot of pressure from her mother and siblings to accept a suitor, marry and help ease the family's financial strains during the Covid-19 pandemic .
Abeba wants to become a doctor, but in her hometown in South Gondar, in Ethiopia, her future education is uncertain.
Rabi, 16, is still attending secondary school in Gusau, Nigeria, but four of her close friends have been married off during the pandemic, and her mother believes she should follow suit.
"Two of our neighbours will marry this week, Insha'Allah. I just never knew my turn would come so soon," Rabi said.
And these prospects of an underage marriage are far from unusual. Over the next decade, 10 million more girls have been put at risk of becoming child brides as a result of Covid, a new Unicef report shows.
According to Unicef estimates, even before the pandemic struck it was predicted that 100 million children would have been forced into marriage in the next 10 years. But now that figure is even higher, with a projected 10% increase.
Global school closures, the economic downturn and the interruption of support services for families and children have made girls more likely to become wives before legal adulthood by 2030, the report says.
"These figures tell us that the world is ecoming a tougher place for girls," Nankali Maksud, senior advisor for Prevention of Harmful Practices at Unicef, told the BBC.
Abeba said that she managed to get out of her arranged marriage because she won her father over. "My mother and brothers, they kept pushing me to get married. They finally relented when my family got counselling and officials persuaded them to change their minds."
But for Rabi (not her real name), the threat is still present. She lives in a farming area in Damba, a Hausa-Fulani settlement in northern Nigeria, where a young girl gets married as soon as she has a firm suitor.
"For me it all started during lockdown, when my younger brothers were playing a game of spelling, and I decided to join them," the 16-year-old said.
Rabi's mother got angry with her when the teenager struggled with the game. "She said, 'You have wasted enough time going to school! Look at your little brothers having to teach you!'"
Her mother went on: "By now, all the girls in your school year have been married off. I shall ask Shafi'u [Rabi's suitor] to send his parents to officially ask for your hand in marriage."
Her friends Habiba, Mansura, Asmau and Raliya got married over the past year to alleviate their families' economic hardship.
A local woman who is friends with Rabi's mother did not understand the girl's reluctance. "What else would a parent wait for?" she told the BBC. "I can't afford to pay for my daughter's studies. Marriage is a chance for a girl to settle down, and there will be fewer people in the house."
Since 2011, the proportion of girls married before legal adulthood has fallen by 15% overall, but now this progress is under threat as a result of the pandemic, Unicef reports.
"We were making progress globally in reducing child marriages. Still not enough to achieve our goal of eliminating it, but we were going in the right direction," Ms Maksud said.
"But Covid has put us even more off-track. The lives of teenage girls globally have gotten worse".
There are some positive trends reflected in the report, though. Although child marriage is still common practice in some parts of the world, it is becoming less common where the right measures are put into place.
And the recent increase in numbers projected as a result of the pandemic may be reversed, experts say.
Can child marriages be prevented?
Experts believe child marriages could be prevented with timely social interventions.
"And the perfect example is India. Over the last 30 years, India has had huge national cash transfer programmes," Ms Maksud said. As a result, Indian families have received financial compensation for not marrying off their underage daughters.
Also, if marriage cannot be prevented but it is instead delayed, the effects are still beneficial for a community.
"That's really important, because we allow these girls to complete school, to have options in her life, to build skills, and as a result we are more likely to stop the circle of poverty," Ms Maksud said.
There are three key elements that need to be addressed to revert the trend of Covid child brides, Ms Maksud told the BBC.
"First of all, get girls back to school in the safest possible way," Ms Maksud said, or give them the chance to develop skills such as learning a trade or a craft.
"We also need to address the economic impact of Covid in poor households, so the financial burden is not palliated by selling or marrying off girls."
The Unicef advisor also pointed out that teenage pregnancy is a significant driver behind underage marriages.
"So it is vital that sexual and reproductive health services resume so girls can access them, and have the information and assistance they need to be able to make the right choices."
In Ethiopia, Abeba is hoping her friends will stay in school with her and avoid arranged marriages before they graduate.
Mekdes, 14, dreams of becoming an engineer.
"While we were staying at home (during lockdown), I overheard my parents talking about marrying me off to a boy that I didn't even know," she told the BBC.
"I said that I didn't want to get married and wanted to study, but they wouldn't listen.
"I waited until our school re-opened and told the school director," the teenager said. "He informed the local authorities, and they counselled my parents against it."
Her parents have now vowed not to marry her off until she turns 18.
"The counselling service is helping a lot in our community. There is now even a system for the police to prosecute parents if they say no and insist on marrying us off."
Edited by Valeria Perasso, BBC World Service.