Coronavirus lockdown: Nigerians cautious as restrictions eased in Lagos and Abuja
By Nduka Orjinmo
BBC News, Lagos
In Nigeria, some businesses have reopened on the first working day after the easing of a lockdown imposed on key urban areas in a bid to restart Africa's largest economy.
But the main doctors' association described the move as "very premature".
In the commercial hub, Lagos, traffic jams were absent, indicating that many were remaining indoors.
Last week, President Muhammadu Buhari said the measures had imposed "a very heavy economic cost".
The lockdown began five weeks ago to contain the spread of coronavirus.
As many in the big cities live a hand-to-mouth existence, the restrictions led to fears that it could leave people hungry as it cut off their means to earn money.
Nigeria is one of several African countries beginning to loosen restrictions. Egypt, Rwanda, South Africa and Tunisia have also relaxed their coronavirus lockdowns.
What could happen to the economy?
The country's economy is also predicted to suffer because of a collapse in the oil price.
Standard Chartered Bank has forecast that in light of the impact of coronavirus Nigeria's economy will only grow by 0.2% this year, it previously forecasted 2.5% growth.
In Lagos, as well as the absence of the city's notorious traffic jams, there are also fewer of the city's famous yellow public buses plying their routes.
The bus stops, which are normally bustling with commuters, had a few stranded passengers, who then tried to cram on to any vehicles that stopped.
The lockdown, imposed on 30 March in Lagos, neighbouring Ogun state and the capital, Abuja, meant that many businesses were closed as people were required to stay indoors, except for essential journeys. Markets were allowed to stay open for limited hours.
Supermarkets and some fruit and vegetable markets are allowed to open from 10:00 to 16:00 on Mondays and Thursdays to allow people to buy food and other basic necessities, according to a government statement.
Why are people concerned about the easing?
But some have expressed concerns that the government's decision to ease restrictions has been premature as the number of new coronavirus cases does not appear to be tailing off.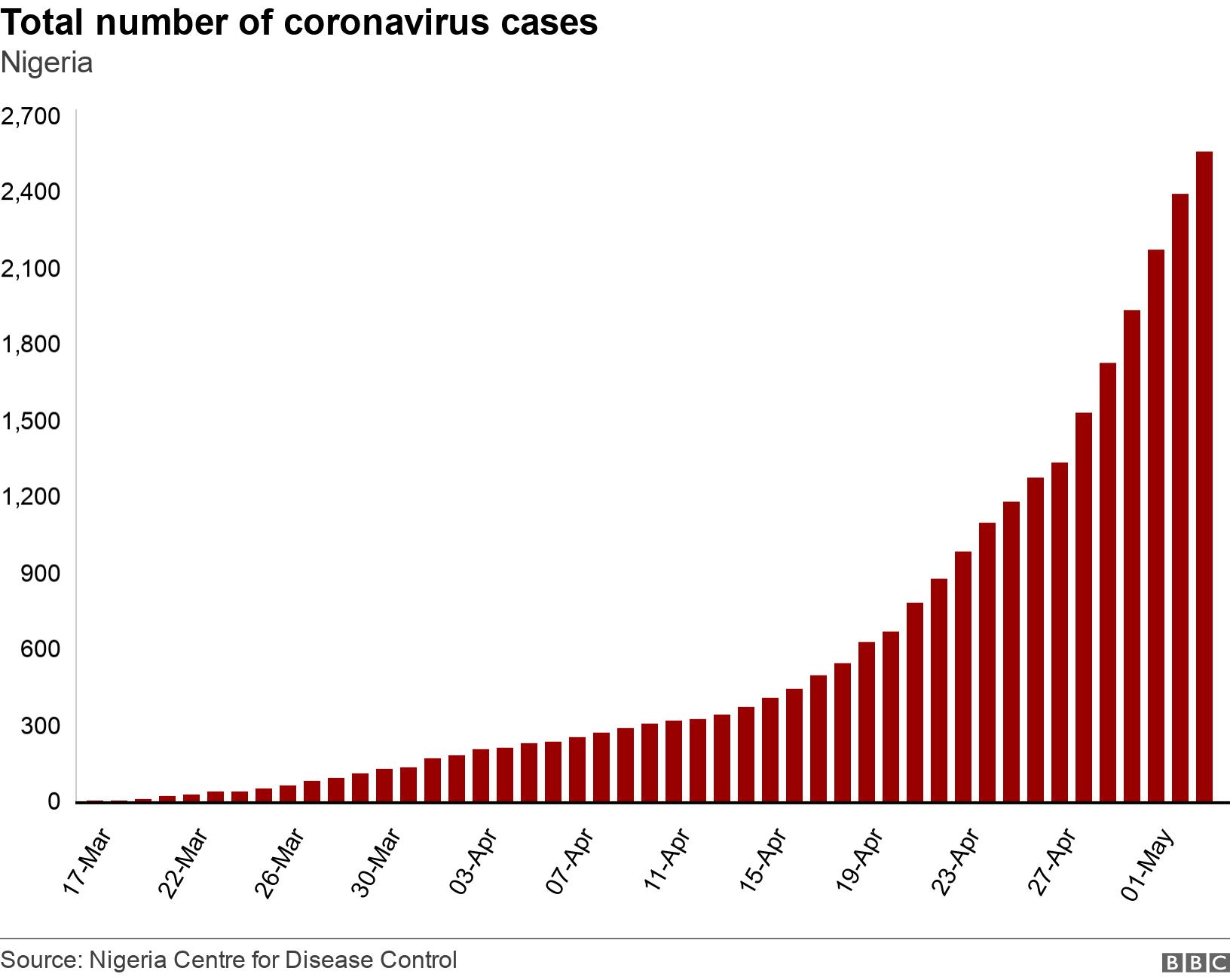 "Only the living can enjoy their money," said Joy Ugochukwu who works with an auditing firm in Lagos' Victoria Island business district.
She said she was delaying her return to work despite a message from her employer asking her to resume on Monday.
"The virus is going to increase now everyone is rushing out," she said.
What restrictions are still in place?
A ban on large gatherings is still in place and there is a curfew between 20:00 and 06:00. People are also required to wear a face mask in public.
In Lagos, offices have been told to shut by 15:00 while commercial buses must reduce passengers numbers to maintain social distance.
The government says this is the first phase of easing the lockdown and that the situation will be assessed in the next two weeks.
Nigeria has so far recorded 2,558 cases of coronavirus and 87 deaths.
What are the doctors saying?
Nigeria's medics have expressed disquiet over the loosening of restrictions.
The main body, the Nigerian Medical Association warned last week of a "frightening scenario" due to a lack of bed space, while the pace of new infections seems to be growing.
While another body, the Nigerian Union of Allied Health Professionals, said "the deficit of health professionals and medical facilities would not be able to handle whatever upsurge that may arise due to the high incidences of community transmission".
"Nigeria should learn from her neighbour Ghana where the same action produced a 100% increase in infection rate in just a week," the group added.
Some employers in Lagos are also cautious, asking employees to continue working from home and some business owners, unsure about the government's decision, say they are in no rush to open their doors.
What did the president say?
The government says it has increased its capacity to test for the virus and can now carry out more than 1,000 a day.
In his speech last week announcing the easing of restrictions, Mr Buhari recognised the economic difficulties that the they had caused, acknowledging that many citizens had lost their livelihoods..
"Many businesses have also shut down. No country can afford the full impact of a sustained lockdown while awaiting the development of vaccines or cures," he said.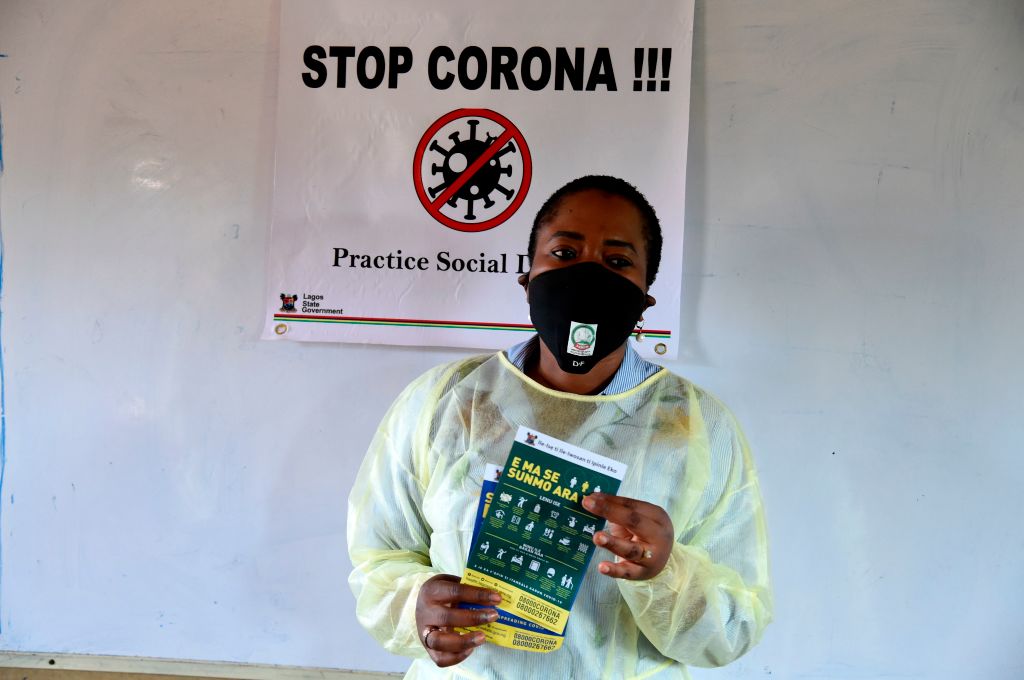 Getty
Coronavirus in Nigeria
2,558confirmed cases

2,071active cases

400recovered

87deaths
Source: Johns Hopkins University
The government has since revised its budget for the year, slashing its revenue projection by about 40% and applying for emergency support from the International Monetary Fund of $3.4bn (£2.7bn).
How have people been affected?
But it is on the ground that the hardship is being felt. More than 90% of the workforce are employed in the informal sector with no access to government support.
Small companies have been hardest hit and many have been forced to lay off staff with no help from the government. Only the country's very poorest households have received $54 to see them through the next four months.
An assistant at a company that makes yoghurt in Lagos, who wanted to remain anonymous, told the BBC that it felt like a dream when she was told her services were no longer required.
"I broke down in tears because I don't know where to start," she said.
She had searched for a job for several months before she got the work where she earned $52 a month.
Many others have been told to take pay cuts to keep their jobs.
Did people stick to the lockdown?
In truth, the restrictions put in place during the lockdown were not strictly adhered to as many citizens flouted the guidelines.
Markets and shops were open, people went outdoors for exercise and in some areas of Lagos, where people live in close quarters, attempts at social distancing advised by the government were chaotic and abandoned after the first few days.
As President Buhari said, Nigeria does not have the resources for a long-term lockdown.
This was a tussle between saving Nigeria's fragile economy and an ailing health sector battling a deadly virus.
It seems the government has hedged its bets on saving the economy and riding out the virus.
What are other Africa countries doing?
Rwanda has loosened restrictions after 45 days of coronavirus lockdown, even though a nationwide night-time curfew will be enforced and movement in and out of the capital, Kigali, is prohibited.
On Monday, roads in Kigali were busy again, in a city considered to be a hotspot for infections. People were seen adhering to mandatory wearing of face masks and social distancing.
The first working day of eased restrictions in South Africa has seen taxi ranks resume operations as commuters queued to board vehicles to work.
People have been allowed to return to work but they still have to keep their distance from each other, wear masks and wash their hands.
Tunisia is also easing a strict lockdown which has been in force for six weeks. Half of the public administration and industry sectors are returning to work, although face masks must be worn.
Egypt is allowing hotels to reopen for domestic tourists on condition they operate at no more than 25%.
More about coronavirus and Africa: