Coronavirus pandemic: Tracking the global outbreak
By The Visual and Data Journalism Team
BBC News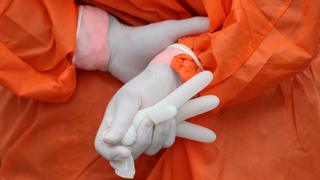 Coronavirus is continuing its spread across the world, with almost six million confirmed cases in 188 countries. More than 360,000 people have lost their lives.
This series of maps and charts tracks the global outbreak of the virus since it emerged in China in December last year.
How many cases and deaths have there been?
The virus, which causes the respiratory infection Covid-19, was first detected in the city of Wuhan, China, in late 2019.
It then spread quickly across the globe in the first months of 2020.
mapped
Confirmed cases around the world
Please upgrade your browser to see the full interactive
Source: Johns Hopkins University, national public health agencies
Figures last updated 29 May 2020, 17:50 BST
Note: The map and table in this page use a different source for figures for France from that used by Johns Hopkins University, which results in a slightly lower overall total.
The US has by far the largest number of cases, around one third of the global total, according to figures collated by Johns Hopkins University. With more than 100,000 fatalities, it also has the world's highest death toll.
The UK, Italy, France and Spain are the worst-hit European countries.
In China, the official death toll is some 4,600 from about 84,000 confirmed cases, although critics have questioned whether the country's official numbers can be trusted.

data in detail
Scroll table to see more data
*Deaths per 100,000 people
| | | | | | |
| --- | --- | --- | --- | --- | --- |
| US | 101,563 | 31.0 | 1,721,768 | | |
| UK | 38,161 | 56.8 | 271,222 | | |
| Italy | 33,142 | 54.7 | 231,732 | | |
| France | 28,662 | 44.1 | 149,071 | | |
| Spain | 27,119 | 58.1 | 237,906 | | |
| Brazil | 26,754 | 12.8 | 438,238 | | |
| Belgium | 9,430 | 82.1 | 58,061 | | |
| Mexico | 9,044 | 7.2 | 81,400 | | |
| Germany | 8,497 | 10.2 | 182,559 | | |
| Iran | 7,677 | 9.4 | 146,668 | | |
| Canada | 6,982 | 18.8 | 90,002 | | |
| Netherlands | 5,931 | 34.8 | 46,132 | | |
| India | 4,820 | 0.4 | 169,011 | | |
| China | 4,638 | 0.3 | 84,119 | | |
| Turkey | 4,461 | 5.4 | 160,979 | | |
| Russia | 4,374 | 3.0 | 387,623 | | |
| Sweden | 4,350 | 43.6 | 36,476 | | |
| Peru | 4,099 | 12.8 | 141,779 | | |
| Ecuador | 3,313 | 19.4 | 38,471 | | |
| Switzerland | 1,919 | 22.5 | 30,828 | | |
| Ireland | 1,639 | 34.0 | 24,841 | | |
| Indonesia | 1,520 | 0.6 | 25,216 | | |
| Portugal | 1,383 | 13.5 | 31,946 | | |
| Pakistan | 1,317 | 0.6 | 64,028 | | |
| Romania | 1,240 | 6.4 | 18,982 | | |
| Poland | 1,043 | 2.8 | 22,964 | | |
| Philippines | 942 | 0.9 | 16,634 | | |
| Chile | 890 | 4.8 | 86,943 | | |
| Japan | 887 | 0.7 | 16,673 | | |
| Colombia | 855 | 1.7 | 25,406 | | |
| Egypt | 845 | 0.9 | 20,793 | | |
| Ukraine | 679 | 1.5 | 22,811 | | |
| Austria | 668 | 7.5 | 16,655 | | |
| Algeria | 630 | 1.5 | 8,997 | | |
| Bangladesh | 582 | 0.4 | 42,844 | | |
| South Africa | 577 | 1.0 | 27,403 | | |
| Denmark | 568 | 9.9 | 11,593 | | |
| Hungary | 517 | 5.3 | 3,841 | | |
| Argentina | 510 | 1.1 | 14,702 | | |
| Dominican Republic | 485 | 4.6 | 16,068 | | |
| Saudi Arabia | 458 | 1.4 | 81,766 | | |
| Panama | 320 | 7.7 | 12,131 | | |
| Czech Republic | 319 | 3.0 | 9,143 | | |
| Finland | 314 | 5.7 | 6,776 | | |
| Bolivia | 293 | 2.6 | 8,387 | | |
| Moldova | 288 | 7.1 | 7,896 | | |
| Israel | 284 | 3.4 | 16,887 | | |
| South Korea | 269 | 0.5 | 11,402 | | |
| United Arab Emirates | 260 | 2.7 | 33,170 | | |
| Nigeria | 259 | 0.1 | 8,915 | | |
| Afghanistan | 246 | 0.7 | 13,659 | | |
| Serbia | 242 | 3.5 | 11,354 | | |
| Norway | 236 | 4.4 | 8,422 | | |
| Belarus | 224 | 2.4 | 40,764 | | |
| Morocco | 202 | 0.6 | 7,697 | | |
| Honduras | 196 | 2.0 | 4,752 | | |
| Sudan | 195 | 0.5 | 4,346 | | |
| Kuwait | 194 | 4.7 | 25,184 | | |
| Iraq | 185 | 0.5 | 5,873 | | |
| Cameroon | 175 | 0.7 | 5,436 | | |
| Greece | 175 | 1.7 | 2,909 | | |
| Bosnia and Herzegovina | 153 | 4.6 | 2,485 | | |
| Bulgaria | 136 | 1.9 | 2,485 | | |
| North Macedonia | 126 | 6.0 | 2,129 | | |
| Armenia | 120 | 4.1 | 8,676 | | |
| Malaysia | 115 | 0.4 | 7,732 | | |
| Luxembourg | 110 | 18.2 | 4,008 | | |
| Slovenia | 108 | 5.2 | 1,473 | | |
| Australia | 103 | 0.4 | 7,173 | | |
| Croatia | 103 | 2.5 | 2,245 | | |
| Cuba | 82 | 0.7 | 2,005 | | |
| Guatemala | 80 | 0.5 | 4,348 | | |
| Somalia | 72 | 0.5 | 1,828 | | |
| Mali | 72 | 0.4 | 1,194 | | |
| DR Congo | 69 | 0.1 | 2,833 | | |
| Lithuania | 68 | 2.4 | 1,662 | | |
| Estonia | 67 | 5.1 | 1,859 | | |
| Chad | 65 | 0.4 | 726 | | |
| Yemen | 65 | 0.2 | 283 | | |
| Niger | 64 | 0.3 | 955 | | |
| Kenya | 62 | 0.1 | 1,745 | | |
| Azerbaijan | 58 | 0.6 | 4,989 | | |
| Thailand | 57 | 0.1 | 3,076 | | |
| Burkina Faso | 53 | 0.3 | 847 | | |
| Andorra | 51 | 66.2 | 764 | | |
| Tunisia | 48 | 0.4 | 1,071 | | |
| Tajikistan | 47 | 0.5 | 3,686 | | |
| Sierra Leone | 45 | 0.6 | 829 | | |
| Channel Islands | 45 | 26.4 | 560 | | |
| El Salvador | 42 | 0.7 | 2,278 | | |
| San Marino | 42 | 124.3 | 671 | | |
| Senegal | 41 | 0.3 | 3,429 | | |
| Oman | 40 | 0.8 | 9,820 | | |
| Kazakhstan | 37 | 0.2 | 9,932 | | |
| Qatar | 36 | 1.3 | 52,907 | | |
| Haiti | 35 | 0.3 | 1,443 | | |
| Nicaragua | 35 | 0.5 | 759 | | |
| Ghana | 34 | 0.1 | 7,616 | | |
| Albania | 33 | 1.1 | 1,099 | | |
| Ivory Coast | 32 | 0.1 | 2,641 | | |
| Kosovo | 30 | 1.6 | 1,048 | | |
| Slovakia | 28 | 0.5 | 1,520 | | |
| Liberia | 27 | 0.6 | 273 | | |
| Lebanon | 26 | 0.4 | 1,172 | | |
| Latvia | 24 | 1.2 | 1,064 | | |
| Isle of Man | 24 | 28.5 | 336 | | |
| Singapore | 23 | 0.4 | 33,860 | | |
| Guinea | 22 | 0.2 | 3,553 | | |
| New Zealand | 22 | 0.5 | 1,504 | | |
| Uruguay | 22 | 0.6 | 811 | | |
| Mayotte | 21 | 8.1 | 1,699 | | |
| Tanzania | 21 | 0.0 | 509 | | |
| Djibouti | 20 | 2.1 | 2,914 | | |
| Congo | 19 | 0.4 | 571 | | |
| Mauritania | 19 | 0.4 | 346 | | |
| Cyprus | 17 | 1.4 | 941 | | |
| Kyrgyzstan | 16 | 0.3 | 1,662 | | |
| Bahrain | 15 | 1.0 | 10,352 | | |
| Saint Martin | 15 | 40.3 | 77 | | |
| Uzbekistan | 14 | 0.0 | 3,468 | | |
| Gabon | 14 | 0.7 | 2,431 | | |
| Martinique | 14 | 3.7 | 197 | | |
| Guadeloupe | 14 | 3.5 | 161 | | |