Covid-19 pandemic: Where are the global coronavirus hotspots?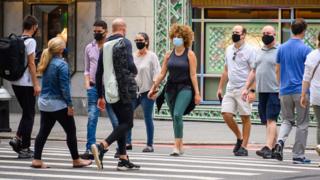 Coronavirus is continuing its spread across the world, with more than 32 million confirmed cases in 188 countries and a death toll fast approaching one million.
The virus is surging in many regions and some countries that had apparent success in suppressing initial outbreaks are also seeing infections rise again.
But the number of confirmed cases during the spring peak is likely to be an underestimate of the true level of infection, as widespread testing was not available in many countries earlier in the year.
Note: The map, table and animated bar chart in this page use a different source for figures for France from that used by Johns Hopkins University, which results in a slightly lower overall total. US figures do not include Puerto Rico, Guam or the US Virgin Islands.
Where are cases and deaths rising?
As the global death toll nears one million, the World Health Organization (WHO) has warned it could hit two million before an effective vaccine is widely used.
A number of regions have seen new coronavirus cases rise over the last few months, with India driving numbers in Asia.
The official number of confirmed infections in India has almost reached six million, the second-highest in the world after the US.
The virus appears to be spreading much faster in India than elsewhere, with the country recording about 90,000 cases a day during September.
The rise in infections comes as the government continues to lift restrictions to try to boost an economy, but the surge is also a reflection of increased testing.
India has maintained a relatively low death rate, however, given the size of its population.
In Latin America, Brazil has the highest number of deaths, with more than 140,000 so far. It has also recorded more than 4.7 million cases, the third highest in the world.
Newly confirmed cases in the region are also rising quickly in Argentina, which now has almost 700,000 infections.
In the Middle East, Iran has been badly affected by the virus, and in the past week has confirmed its highest number of new cases since early June.
Neighbouring Iraq has seen a steady rise in cases.
Cases are also continuing to rise in Indonesia and the country has recorded more than 10,000 deaths - the highest number in South East Asia.
Africa has recorded more than 1.4 million confirmed cases, although the true extent of the pandemic in the continent is not known.
Testing rates are reported to be low, which could distort official estimates. South Africa and Egypt have seen the largest recorded outbreaks so far on the continent.
Coronavirus cases rising again in Europe
Several European countries are recording a rising number of daily cases amid fears of a resurgence of the virus.
A number of European countries have re-imposed lockdowns and other restrictions in their worst-affected regions, and there have been fresh appeals for people to wear face coverings and follow social distancing rules.
The pattern of rising infections following the loosening of lockdown restrictions is not limited to Europe, though.
Israel has imposed a new national lockdown after recording a record number of daily cases in recent days.
Other countries that have seen a resurgence of the virus include Russia, Peru, South Korea, Canada and Australia - although following the reintroduction of tougher restrictions some of these are now seeing cases fall again.
In the table below, countries can be reordered by deaths, death rate and total cases. In the coloured bars on the right-hand side, countries in which cases have risen to more than 5,000 per day are those with black bars on the relevant date.