Coronavirus pandemic: Tracking the global outbreak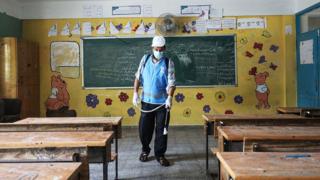 Coronavirus is continuing its spread across the world, with nearly 19 million confirmed cases in 188 countries. More than 700,000 people have lost their lives.
Cases of the disease are continuing to surge in many countries, while others which had apparent success in suppressing initial outbreaks are now seeing infections rise again.
The World Health Organization's (WHO) special envoy David Nabarro told the BBC that the virus is capable of "surging back really quickly" and is "returning all the time".
Where are cases and deaths rising?
The WHO says Latin America is the epicentre of the pandemic. Brazil has the second highest number of cases in the world and has recorded nearly 100,000 deaths, while Mexico, the second-most affected country in the region, has recorded about 50,000 deaths.
Cases are also increasing rapidly in Colombia, Peru, Argentina and Bolivia.
Iran has also been badly affected by the pandemic. Information leaked to the BBC Persian service revealed the number of deaths from coronavirus was 42,000, around three times the total claimed by Iran's government.
South Africa and Egypt have seen the largest outbreaks so far in Africa, with South Africa becoming only the fifth country in the world to record more than 500,000 confirmed cases.
But testing rates are reported to be extremely low in some parts of the continent, which could be distorting official estimates of how far the virus has spread.
India now has world's highest daily cases and deaths
India has recorded more than 50,000 new infections every day for the past week, according to government figures.
The world's second most populous country has the fifth highest death toll, but is continuing to ease public restrictions despite the spike in cases.
Coronavirus cases rising again in Europe
Several countries across Europe have reported a recent rise in cases, with France's scientific committee warning that a second wave of the virus in autumn or winter is "highly likely".
The WHO says that increasing infections among young people may be behind the latest outbreaks, which have followed the easing of lockdown measures across much of the continent.
Spain has seen the most significant spike, and Poland has reported record case increases in recent days, with many linked to mining communities in the region of Silesia.
A number of countries have re-imposed localised lockdowns in their worst-affected regions, and there have been renewed appeals for people to wear masks and follow social distancing rules.
Other countries outside Europe that also appeared to have controlled initial outbreaks, like Israel, Australia and Japan, are now seeing cases rise again.
In the table below, countries can be reordered by deaths, death rate and total cases. In the coloured bars on the right-hand side, countries in which cases have risen to more than 5,000 per day are those with black bars on the relevant date.