From China to South Africa: What readers said about the Freedom Trash Can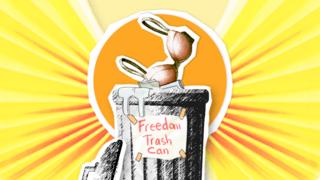 Fifty years ago, a group of female protesters outside the Miss America beauty pageant in New Jersey threw what they called "items of oppression" into a symbolic bin.
Bras, magazines and high heels, among other things, were chucked into the so-called Freedom Trash Can and labelled "instruments of torture" by the protesters.
These items were symbolic of wider issues - second-wave feminism at the time was concerned with elevating women's opportunities beyond specific dress codes and domestic expectations.
To mark the anniversary of this protest and to take it to a more global audience, BBC 100 Women asked what items people would want to throw into the Freedom Trash Can today.
A digital Freedom Trash Can gave readers the option to choose from several objects already suggested by our audience, or to suggest a new object altogether.
Celia Marie, 10, says she would like to throw away magazines aimed at girls.
"If I pick up a hockey magazine, I'm told I'm a tomboy," she says.
Sarah got in touch to say she thinks gendered clothing and toys should become more neutral.
As the aunt to a five-year-old, Sarah says if she gives her niece a present wrapped in blue or green wrapping paper or with packaging with stereotypical boys' designs on, such as cars, her niece will say it's not for her.
"While we're encouraging young girls to study science, the toys that are available to them, don't reflect that," she says. "I'm yet to find a science kit that's directed at girls."
Some of the women on this year's 100 Women list also suggested items they would like to put in the Freedom Trash Can.
"What I'd like to throw away is both related to gender and race. It's the brown paper bag test that originated in the US," says Professor Olivette Otele from Bath Spa University.
"It was a way to measure what was deemed the acceptable colour of skin (in order to engage in certain situations) for black people.
"It is about colourism and in particular how black women are deemed beautiful still in some circles if their skin colour is the same as or lighter than the brown paper bag. Dark-skinned men are not usually subjected to that arbitrary classification.
"I see it as an oppressive and divisive tool against all women whether they have dark, brown or lighter skin colour," she says.
Fifa Secretary General Fatma Samoura wanted to throw away a "razor, or any other sharp object used to carry out female genital mutilation, which sadly continues in Africa.
"Equality and empowerment of girls and women can only happen when their bodies are not only respected but protected," she says.
It is estimated that more than 200 million girls and women alive today have undergone female genital mutilation, according to the World Health Organisation.
"Female genital mutilation has been documented in 30 countries, mainly in Africa, as well as in the Middle East and Asia," they say.
The data gathered is qualitative, rather than quantitative - it gives a snapshot of women's lives today around the world, and how their priorities may have changed since the original protest.
Not everyone agreed with the concept of the Freedom Trash Can, with some people finding the idea outdated, or not relevant to the inequalities women experience in 2018.
Many wanted to put concepts rather than objects in the bin - such as sexual violence or the gender pay gap.
The bra - a centrepiece of the original 1968 protest - proved to be a particularly divisive item.
Many UK Twitter uses pointed out it was crucial to sport, or simply feeling comfortable, whilst in China it was one of the most popular items to put in the bin, along with women's magazines.
Nermeen, a 52-year-old Egyptian living in California, chose hair dye.
"For years, I have been dying my hair to cover grey without thinking about why exactly I am doing this," she says.
"Recently... I discovered that personally I get no value from such an act and that I am propagating an action that is rooted in values to which I do not subscribe such as linking women's worth to their appearance and their child bearing abilities which are age-linked.
"I decided to stop the act and was stunned by how many comments I get related to my grey hair [both positive and negative]. I wonder how many men get comments related to their grey hair. I also discovered that lots of female friends are opposed to grey hair and see it as a sign of giving up on life and becoming irrelevant. I find such notions horrifying."
Ada*, 45, who is from South Africa, said the thing she wanted to throw in the Freedom Trash Can was the relationship structure itself. And in particular, "how difficult it is to convince men that some of the things that affect women are actually there and real".
"There are too many societal patterns of influence associated with this structure and I think it needs to be torn down and rebuilt to be effective at growing all individuals in the unit equally."
Men also described items they would like to get rid of, with clothing such as ties and suits being the most common suggestions. Other people pointed out that some items can affect people of all genders.
One Instagram user suggested getting rid of pornography.
"A male friend of mine spoke of his frustration working on a building site where during break time, watching pornography was the norm," she said.
"He was made to feel that he was the weird one for not wanting to participate."
Fifty years on, Robin Morgan, one of the original Freedom Trash Can protesters spoke to BBC 100 Women to explain what she would throw away today.
"Symbols of all major religions," she says. "Because they're all patriarchal."
"I thought of really high-heeled shoes and control underwear - which basically are corsets - and I thought of copies of violent pornography. I think I would throw in drugs like opioids and diet pills.
"At the heart of me, I'm a poet. Symbols and metaphor - I understand the power of them and the power of the Freedom Trash Can."
*Some names have been changed.
What is 100 Women?
BBC 100 Women names 100 influential and inspirational women around the world every year and shares their stories.
It's been a momentous year for women's rights around the globe, so in 2018 BBC 100 Women will reflect the trailblazing women who are using passion, indignation and anger to spark real change in the world around them.
Find us on Facebook, Instagram and Twitter and use #100Women