Freedom Trash Can: High heels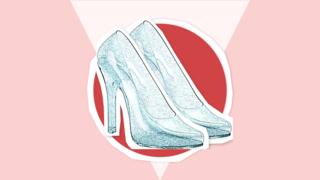 Studies have suggested wearing high heels can lead to damage to the muscles and skeleton. The discomfort they can cause has even led to a secondary market selling cushioned insoles and other pain-easing products.
Maybe it would be easier not to wear them in the first place?
A few years ago, actress Emma Thompson made headlines by taking off her sky-high, Laboutin heels at the Golden Globes award ceremony. Complaining they were too painful, she ended up presenting an award barefoot.
But what if taking them off isn't an option? In 2016, a London receptionist was sent home from work for refusing to wear high heels. In response, she called for the UK to make it illegal to require employees to wear heels to work.
The government refused to change the law to include specific rules around heels, but said it would work harder to improve guidance on dress codes in the workplace.
Select an object from the list and find out how it might be considered an object of oppression.
Although now associated with female glamour - and in some cases, pain - high heels actually started life as footwear for men. They were worn by horseback soldiers in Persia - now modern-day Iran - to help secure their stance in the stirrups.
Pick another object to explore