India gay sex ruling: Where in the world is gay sex still against the law?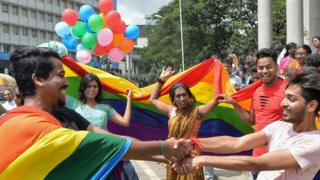 A ruling by the Indian Supreme Court has removed the country from a long list of states that explicitly outlaw gay sex.
In many places, breaking these laws could be punishable by long prison sentences, fines or even corporal punishment.
This week, two Malaysian women were caned for having sex in a car.
There are currently 71 countries that criminalise same-sex relations, according to the International Lesbian, Gay, Bisexual, Trans and Intersex Association (ILGA).
Several others have some form of legal restriction.
Russia is included - even though same-sex relationships were formally legalised in 1993. This is because "a variety of repressive legal provisions" have come into force over the past decade, according to ILGA.
The European Court of Human Rights has described as "discriminatory" a Russian law that bans the promotion of "homosexual behaviour among minors".
Same-sex relationships can carry the death penalty in Iran, Saudi Arabia, Yemen, Sudan, Somalia, and Nigeria.
Legal challenges
In a number countries, legal challenges could bring about change:
In Kenya, the high court is due to rule on whether to decriminalise homosexuality
A separate case in Kenya is challenging restrictions preventing LGBT groups from setting up NGOs
In Botswana, a decriminalisation case is awaiting the appointment of a judge
In Jamaica, laws criminalising gay relations are facing a challenge
Many of the states criminalising homosexual relations are Commonwealth countries with legal statutes originating from British colonial times.
That makes the ruling in India striking down a colonial-era law particularly significant, says Tea Braun of the Human Dignity Trust, a UK-based charity that supports those challenging anti-gay laws.
"Its dismantling by the Indian Supreme Court, after over a century and a half of oppression against LGBT people, signals a change in tide for the world," she told the BBC.
Same sex marriage
Gay marriage is now legal in 25 countries worldwide, says ILGA.
Definitions can sometimes be tricky though - the UK is included despite Northern Ireland's ban.
Brazil and Mexico are also on ILGA's list because "through one legal route or another, it appears to be possible to marry in most jurisdictions".
Countries where gay marriage is now legal:
2001 Netherlands
2003 Belgium
2005 Canada, Spain
2006 South Africa
2009 Norway, Sweden
2010 Iceland, Portugal, Argentina
2012 Denmark
2013 Uruguay, New Zealand, France, Brazil
2014 UK (excluding Northern Ireland)
2015 Luxembourg, Ireland, Mexico, USA
2016 Colombia
2017 Finland, Malta, Germany and Australia
In Austria, same sex couples will be able to marry from next year.
And in August 2018, Costa Rica's top court overturned a ban on same-sex marriage, and gave legislators 18 months to change the law.
A further 28 countries guarantee some civil-partnership recognition, according to the ILGA.