Colombia's sniffer dog and other targeted prized animals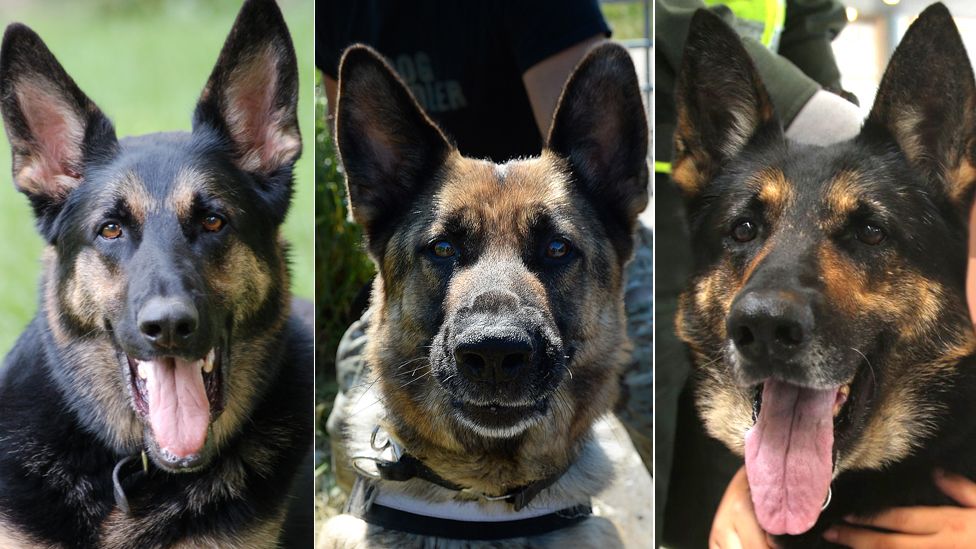 The story of the sniffer dog in Colombia facing death threats from a drugs gang has travelled far, sparking fears for the German shepherd's safety.
Sniffing out almost 10 tonnes of cocaine has made Sombra, which means shadow, the target of Colombia's most powerful criminal organisation, the Urabeños.
Dear, You showing victim's face in public!!! Pls pixelate his face

— Guardian of The Villain (@J_Sho7) July 26, 2018
does the dog not deserve privacy also?

— magnanimous (@WMunro_SCO) July 26, 2018
But despite a 200m-peso ($70,000; £53,000) price tag on Sombra's head, Colombia's counter-narcotics force is not hiding the canine away.
In addition to sharing pictures, the authorities have made public and television appearances with Sombra, and perhaps most importantly, kept her on the job.
The six-year-old is now working outside of the gang's sphere of influence, at Bogotá airport, and in addition to her usual handler, police are deploying her with extra officers to ensure her safety.
But the talented canine is not the only prized animal whose safety has been at threat or has needed extra protection.
Football fans will remember Paul, the ordinary octopus, who rose to worldwide celebrity after correctly predicting Germany's results in the 2008 European Championships and 2010 World Cup.
His fame reached its peak when German news channel n-tv broadcast his Germany vs Spain World Cup semi-final prediction live, from his tank at the Sea Life aquarium in Oberhausen, western Germany.
But much to the dismay of fans, the octopus sided with Spain, and when the results proved his prediction true - death threats flowed in.
German fans blamed Paul for their World Cup exit and threatened to eat him in a paella.
After an earlier prediction of Germany winning against Argentina, an Argentinean newspaper published an octopus recipe.
Five-year-old Irish-bred Shergar was once considered the nearest real-life equivalent to Pegasus, the winged horse from Greek mythology.
He was the winner of the 202nd Epsom Derby in 1981, and his winning margin of 10 lengths was the longest in the British race's history.
After his retirement from racing, the prized Shergar became a breeding stallion in Ireland - much to the relief of British and Irish fans who worried he would be sent off to America.
But one foggy evening in February 1983, he was snatched by armed men from the Ballymany Stud in County Kildare.
Despite reported sightings and conspiracy theories over who abducted Shergar and why, most investigators accepted that paramilitaries from the IRA were to blame.
They allegedly made ransom demands to the Aga Khan, the billionaire spiritual leader to 15 million Ismaili Muslims - and threatened to kill the stallion once they discovered he was not Shergar's sole owner (he was owned by a 34-member syndicate).
Shergar was never found, the kidnappers never earned a ransom, and most insurers never paid out to the syndicate, claiming he could still have been alive.
Many believe the racehorse was shot dead, and the IRA was careful not for evidence to be found, fearing the anger of the horse-loving Irish public.
The world's most prized fungus - the truffle - has got many a hunter hoping to cash in on the rare and expensive delicacy.
With the help of four-legged friends - dogs and pigs - truffle hunters have dug up black and white truffles in countries such as Australia, Italy, the US and South Africa.
But in 2002, French truffle hunters believed an organised gang was stealing their valuable canines, trained in sniffing out the knobbly white fungus in southern France.
In a matter of months, almost a dozen dogs were stolen in the region around Uzes, where 90% of French truffles are found.
One of the dogs, a seven-year-old local celebrity called Julie and nicknamed "la pelleteuse", meaning the digger, was taken in broad daylight.
Dog owners were understandably afraid to send their best animals to rural shows where the truffle-hunting art was demonstrated, fearing this would make their truffle sniffers targets of the gang.