Harrods big spender fights to keep mansion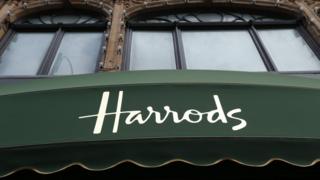 The fugitive wife of a "fat cat banker" who's spent £16m in Harrods is battling to keep her London mansion after the UK's first use of a new power to combat international corruption.
The woman, who cannot be identified for legal reasons, is challenging a demand by the National Crime Agency that she reveal the source of her wealth or face losing her British properties.
The hearing at the High Court is the first time the agency has used an "Unexplained Wealth Order" to force a suspected corrupt foreign official and his family to account for their riches.
The NCA wants the couple to explain how two properties worth £22m were bought, amid suspicions the cash was stolen by the woman's husband while he was working for a state bank in their home country.
If the woman fails to overturn the court order, or fails to prove she is legitimately wealthy, the NCA can ask the courts to seize the homes.
Major fraud
Unexplained Wealth Orders (UWOs) came into force earlier this year to help investigators identify and seize British property suspected to have been bought by cash laundered by corrupt foreign politicians and officials.
The power was introduced because it's difficult for agencies to prove how these suspects obtained their wealth overseas - and that makes criminal prosecutions almost impossible.
During the first challenge to an UWO, the High Court revealed that "Mrs A" is the wife of a state banker from a "non-EEA country", that also cannot be named for legal reasons.
The couple have an estimated wealth of more than £55m ($72.5m), and 10 years ago, Mr A applied to settle in the UK under the visa scheme for wealthy investors.
The first London property was bought the following year - but Mr A was subsequently jailed overseas after being convicted of a major fraud.
Mrs A is also wanted for trial - but has been living what the court heard was an "extravagant" lifestyle in the UK, spending the vast sums her husband allegedly embezzled.
Jonathan Hall QC, for the NCA, told the court that Mrs A had spent £16m in Harrods over 10 years.
Each week, she'd spent tens of thousands of pounds on luxury goods. Her child has their own share fund worth £15m.
Mrs A has claimed in court papers that her wealth comes from her husband's successful overseas enterprises.
But the court heard this claim is not supported in confidential papers or online profiles of the banker.
Mr Hall said: "It's an astonishing omission that if he were a titan of business, that there is no reference [on websites] to his successful business."
'Unfair trial'
James Lewis QC, appearing for Mrs A, said the NCA's demand that she account for her wealth was unjustified and the agency had misrepresented her husband's career.
Far from being a modestly-paid banker, Mr Lewis said that Mr A had been a stereotypical "fat cat international banker", similar to many others in the private sector.
He'd been the victim of an unfair trial and a major miscarriage of justice, the lawyer said.
"The reality is [the NCA] have to wait years for him to come out of prison. They cannot [seek to seize the homes] when he is unable to participate. She can't call the witness she needs."
If the UWO against Mrs A stands, it's likely to pave the way for more orders against suspects, including Russian oligarchs and corrupt former politicians from Africa, with property in Britain.