Pakistan election: Are more girls going to school?
By Shuja Malik & Reality Check team
BBC Urdu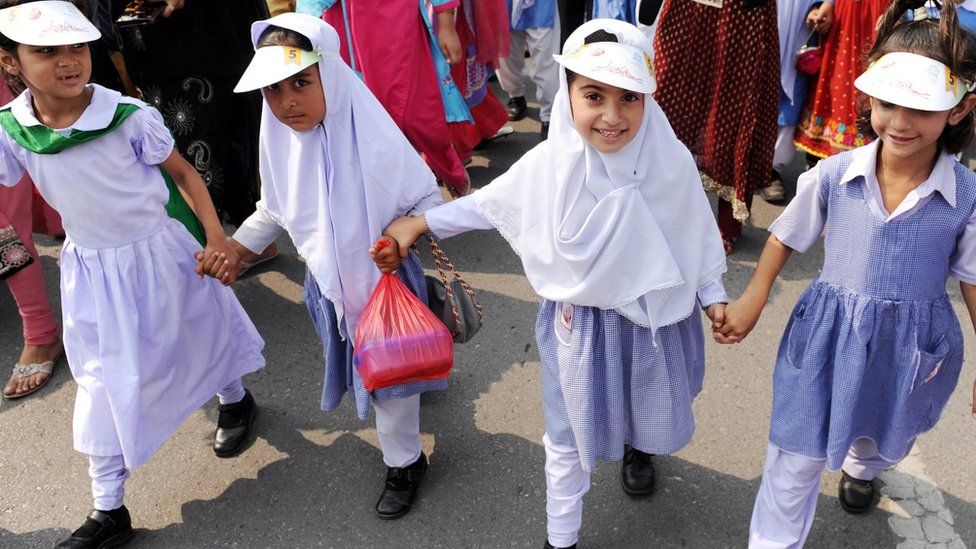 As Pakistan heads to the polls, most of the parties are making campaign pledges to improve access to education for girls.
Malala was shot in the head in 2012 by the Pakistani Taliban, who had begun a violent campaign to force the closure of hundreds of schools.
But are there as many girls as boys now entering the education system in Pakistan?
Overall, there are still proportionally more boys than girls going to school - but there are signs of improvement for girls in some areas of Pakistan.
Based on government data for 2017, that gap between the numbers of boys and girls in education is about 10% - this is from the 5th Grade (nine years old) up to the 12th Grade (17 years old).
These figures have barely changed since the last elections in 2013.
It's also important to note that a significant proportion of students in government public schools - both boys and girls - drop out of school at primary level.
"One of the major factors contributing to the drop in post-primary enrolment is the [lack of] availability of schools at secondary level or above," says Aleena Khan, from Alif Ailaan, a non-profit organisation working on education in Pakistan.
"Almost 80% of [government] schools in Pakistan are primary schools."
She adds that where girls are out of school, the problem is typically not the attitude of the parents towards educating girls, but the lack of enough schools for girls.
The gap in the market is to some extent filled by private schools, which cater to all levels of education, but this sector is still smaller than the government sector.
However, even in private schools there is a gender gap - with a larger proportion of boys than girls enrolling.
And this has not changed much in recent years.
The national picture doesn't tell the whole story, however.
There are significant differences between provinces (and within provinces), with government data showing more girls enrolled than boys in some areas.
For example, Pakistan's second largest city, Lahore, has more girls than boys enrolled in primary schools through to high school.
And another city in Punjab province, Sialkot, shows a similar trend.
Earlier this year, Rana Mashood, the Education Minister in Punjab province, talked of a "phenomenal increase" in his province in girls education in the past two years.
The enrolment data for Punjab and Khyber Pakhtunkhwa provinces shows an improvement since 2013.
However, data for the enrolment of girls in both Sindh and Balochistan provinces shows a decline between 2013 and 2017.
Baela Raza Jamil, chief executive of Idara-e-Taleem-o-Aagahi , a charity that promotes access to education, says this reflects - with the exception of Punjab - a lack of specifically targeted programmes by provincial governments to address the gender imbalance.
However, she adds: "Pakistan is not a country that offers great education for boys or girls. Focusing on enrolling girls keeps us from seeing that boys and girls face the same problem once they are in school."