Trump: What does the US contribute to Nato in Europe?
By Reality Check team
BBC News
US President Donald Trump believes Europe's Nato members are not spending enough to support the alliance, and are relying on the US to shoulder the burden.
Mr Trump has accused Germany of being "delinquent" in its payments to Nato, and said: "We don't want to be suckers anymore."
The US says it will move nearly 12,000 troops out of the country, some of whom will go elsewhere in Europe.
So what does the US contribute towards Nato compared with the other members?
What do Nato members spend?
Nearly 70% of total spending on defence by Nato governments is accounted for by the US.
But the US is a global superpower, with military commitments around the world, and not just in Europe.
In terms of its gross domestic product (GDP) (the total value of goods produced and services) the US spent roughly 3.4% on defence in 2019, according to Nato estimates, while the average in European Nato countries and Canada was 1.55%.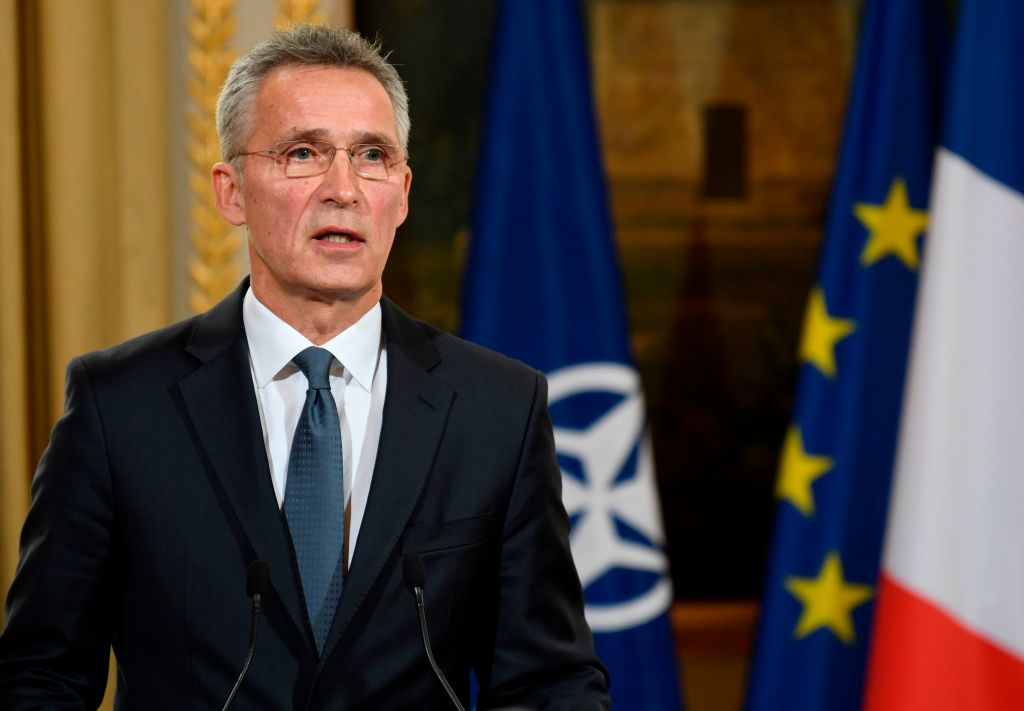 Getty
We have now agreed a new formula for sharing costs. The US will pay less. Germany will pay more.
Nato's running costs are met by a common funding arrangement based on each country's national income. This is to cover:
civilian staff and administrative costs of Nato headquarters
joint operations, strategic commands, radar and early warning systems, training and liaison
defence communications systems, airfields, harbours and fuel supplies
The civilian and military budget for 2019 was set at about €1.67bn (£1.43; $1.84bn), according to Nato figures.
The US was paying for just over 22% of this, while Germany's contribution was 14.76%, and France and the UK just under 10.5% each.
The rest was shared by the other members of the alliance.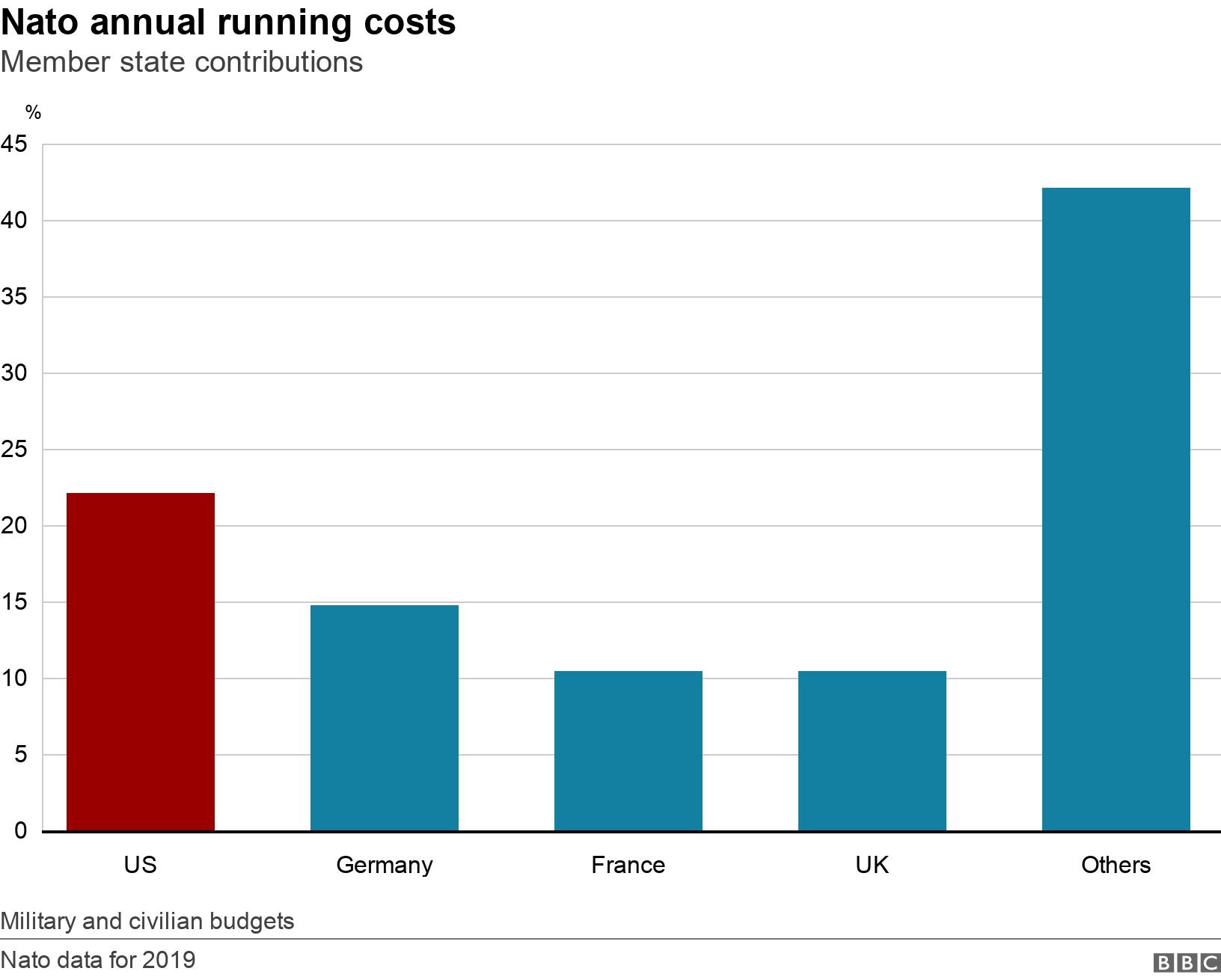 But this will change after a new payment formula was agreed in 2019.
Under the new arrangements, the US contribution will gradually drop to 16%.
What do other countries spend on defence?
At a Nato summit in 2018, President Trump urged the other member states to commit to spending 4% of their GDP on their defence needs.
In fact, the current target is for Nato members to reach 2% of GDP by 2024.
2019 was the fifth year to have seen an increase in spending by Nato members other than the US. The biggest increases have been in Eastern and Central European countries and in Turkey.
Nato estimates for 2019 show there are now eight countries - in addition to the US - spending 2% or more of their GDP on defence.
Greece
UK
Estonia
Romania
Poland
Latvia
Lithuania
Bulgaria
Other European members spent an estimated 1% to 1.99% in 2019, with France spending 1.84% and Germany 1.38% of GDP.
Nato members also pledged that by 2024 at least 20% of their defence expenditure should go on acquiring and developing equipment.
As of 2019, 15 Nato countries - in addition to the US - were on course to meet this target, with major increases since 2014 in Eastern European countries as well as Turkey.
However, two major Nato members - Germany and Canada - still spend less than the 20% threshold on equipment.
What else does the US do for Nato?
The US still has tens of thousands of active-duty personnel in Europe, including Turkey.
Germany currently hosts by far the largest number of US forces in Europe, followed by Italy, the UK and Spain.
It is worth adding some US personnel based in Europe support non-Nato operations and US military numbers fluctuate as forces are rotated in and out of Europe.
Also, the biggest single overseas deployment of US personnel is not in a Nato member state. It's in Japan and there are also large numbers in South Korea.
US forces also have a significant presence in the Middle East and the Gulf, although exact figures are not always disclosed and some deployments are only temporary.
In Afghanistan, the US currently has about 13,000 troops involved in counter-terrorism operations and with the Nato-led mission there, which supports Afghan security forces.
One key component of the US commitment to Europe is a missile defence system run by Nato members. It is designed to help guard against potential long-range ballistic missile attacks from outside the continent, particularly the Middle East.
It includes US equipment and personnel at land-based missile sites in Romania and at one under construction in Poland, with a US-operated radar system hosted by Turkey. Interceptor missiles are also carried on board US warships in the Mediterranean.