The Brazil fuel protests as told from Rio to Rondonia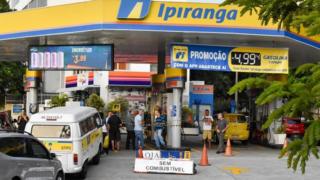 How long would you wait for petrol?
Would you queue for an hour just to fill up your tank? How about queuing at many different petrol stations only to find some are out of fuel entirely?
This is the reality that has faced many Brazilians as petrol stations are only now beginning to recover from a fuel shortage that brought much of Brazil to a standstill.
Lorry drivers are striking in the South American country over the rising cost of fuel, with diesel prices nearly doubling since 2016.
The protests led to mass queues at petrol stations, with one person telling the BBC that they travelled to three petrol stations before finding one that had any fuel.
'People are buying up all the petrol'
Paolita Gonzalez was able to see the situation in gas stations across Brazil as she travelled on a bus from Lima to São Paulo.
"People are protesting in the streets," she said. "They're buying up all the petrol.
"We went to three petrol stations today before finding one that wasn't completely out of fuel. And 10 minutes after our arrival a swarm of people showed up to create a line of 20 cars and 40 bikes.
"When they find a petrol station that still has fuel, swarms of people show up with their vehicles buying as much as they can.
"We have seen this at many petrol stations on our journey."
'Only 15% of stations have petrol'
Lazar Wall is in the Ipanema neighbourhood of Rio de Janeiro.
He described the situation as "slowly going back to normal" as petrol stations are being replenished, and explained that local media in Rio is reporting only 15% of petrol stations now have fuel.
"Cheaper petrol is selling out immediately," he said. "Personally I can't stray too much from local tube stations because my car is running on empty.
"Vehicle traffic on the streets has been scarce, making these days look like a World Cup match when everybody's at home watching TV.
"Grocery store shelves are getting empty, especially of vegetables and fruits."
Strike garners support online
One commentator tweeted the relative improvement in people's lives since the fuel crisis began.
The lorry drivers' strike has yet to conclude.
Brazilians have shown their support online by tweeting #EuApoioAGreveDosCaminhoneiros - which can be translated as "I support the truckers' strike" - with over 500,000 tweets sent using the hashtag.
Such tweets include a powerful video of striking drivers singing the Brazilian national anthem whilst on their knees, as well as lighter footage of people playing music to support the strike on the roadside.
And one person shared pictures of drivers who transport perishable food donating their cargo to charity rather than letting it spoil in the heat.
By Victoria Park & Tom Gerken, BBC UGC & Social News