Jastine Valdez: Student's remains repatriated to Philippines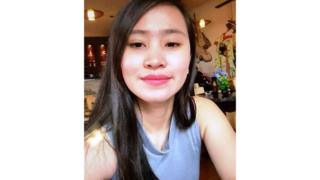 The remains of a 24-year-old student who was abducted and murdered in County Wicklow last week are to be repatriated to the Philippines.
Jastine Valdez's body was found in Puck's Castle Lane in Dublin last Monday. She had been strangled.
Mark Hennessy, 40, from Bray in County Wicklow is suspected of the apparently random attack in Enniskerry.
The father of two was shot dead by Gardaí (Irish police) in the driver's seat of his car.
Miss Valdez's parents, Teresita and Danilo Valdez, will travel on Tuesday's flight along with an Irish official.
The family issued a final message of sincere thanks to the Irish people for their support.
Meanwhile, detectives investigating her murder have issued a fresh appeal for information on the whereabouts of a blue 'Next' shoulder bag and the items in it:
A Bearska jacket
Nike runners (trainers)
A Leap card
An iPad mini
Make-up
Purple reading glasses with a pink tint
Lip balm
They are also keen to speak to any passengers who travelled with Jastine on the 185c Dublin Bus on the evening of 19 May.