The news that made us smile this week
Everyone needs a distraction now and then - so here are some of the things that put a little smile on our faces this week.
We hope they do the same to you.
1) This awkward encounter with an Olympian
This anecdote was shared by Team GB swimmer Lizzie Simmonds.
2) This fake driving licence
That was produced by a driver in Milton Keynes in England on Sunday night. Good effort.
3) This simple solution to a health problem
African-American men are more prone to heart disease than other ethnic groups, meaning they're more likely to suffer heart attacks and strokes than anyone else. But at the same time, they're also likely not to be signed up to a doctor.
So one group of scientists (whose results came out this week) had a simple but effective answer - a trained pharmacist went to meet African-American men in barbershops, where they're likely to hang out as well as get their hair cut.
The result? Every single one of the 319 men tested who had high blood pressure saw it fall after a few meetings with the pharmacist - some by a massive amount.
It's not clear yet if this will become a regular thing, but it seems promising.
4) This sign
It's difficult to imagine how anyone missed Iceland's penis museum, but still...
5) This good Samaritan
This video of a drag queen dressed as Elsa from Frozen, who decided to help a police truck stuck in the Boston snow, went viral this week. And quite right too.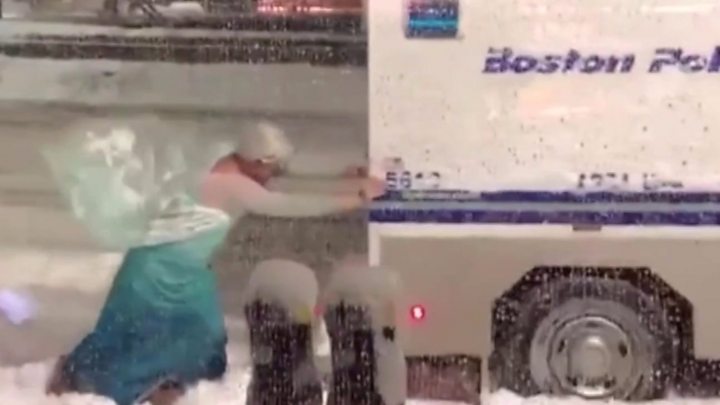 6) This Stephen Hawking stunt
After the sad death of the British physicist on Wednesday, one story emerged that plenty of people may not have heard before: in 2009, he held a party for time travellers, but sent out the invitations after it had happened - so no-one turned up
But who knows whether someone could still put in a surprise appearance in the future... or would that be in the past? My head hurts.
7) The stretchy cats of Japan
How did we get this far without an animal story? For some reason, people in Japan have been sharing pictures of their long, and exceedingly stretchy, cats. Have a nice weekend.