International Women's Day: 'Women of 2037 - this is what I want you to know'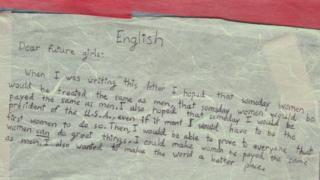 "I hope that someday women will be treated the same as men, that someday women will be paid the same as men.
"I also hope that someday I will be president of the US, even if I have to be the first woman to do it."
These words come from a nine-year-old girl's letter - one of hundreds written in numerous languages to the women of 2037, as part of a global time capsule.
To Future Women is collecting letters from people around the world, asking them to share their hopes for the generation to come.
Georgia Saxelby is the artist behind the collection, hosted at The Phillips Collection in Washington DC.
She launched the project on 21 January, a year after the worldwide Women's March, a protest organised largely in response to the inauguration of US President Donald Trump.
"The reason I chose letters is because [writing one] is an activity that instantly generates a process of reflection," she says.
"The hand-written nature, the act of sitting down, of slowly considering words, not on a digital screen.
"Letter-writing has a tradition of being used to reveal intimate and alternative histories and it allows participants from all over the world to contribute."
What is 100 Women?
BBC 100 Women names 100 influential and inspirational women around the world every year. We create documentaries, features and interviews about their lives, giving more space for stories that put women at the centre.
On 8 March, BBC 100 Women will be showcasing inspirational stories from women in the UK and across the world.
Follow BBC 100 Women on Instagram and Facebook and join the conversation.
Replying to the nine-year-old girl, who signed her letter with the initials ERK, her grandparents and mother also share their visions for the future.
"Today, women are speaking out about abuse in all its forms," writes her grandfather.
"It is my hope, that in the 20 years since this letter was written, those brave female voices will have exposed these injustices and brought about real change.
"It is my hope that you have been, and will be, a part of this important and necessary movement."
Her grandmother writes: "[I hope] you will succeed based on your merits, not in spite of a rigged system that helps men but represses women.
"[I hope] that you will not doubt that you can do and be anything.
"And I hope you become president. I will vote for you."
Georgia is gathering letters and putting them on display until July, at which point she will archive the entire collection until 2037, on the 20th anniversary of the Women's March.
She's been working with a number of embassies in the US to translate them and to encourage people around the world to participate, as part of International Women's Day.
Georgia says "the sheer numbers" of people involved in recent protests made her realise the women's movement "couldn't be ignored".
"Then with #MeToo, that wasn't a small thing and institutions have responded," she says.
"So I decided to use the formal archiving processes of a museum to historicise these gestures, which can seem individual but are actually much larger.
"Despite the leaps and bounds we've taken in the last century with regards to women's rights, still we forget and history forgets."
Georgia points to the centenary of the suffragette movement in the UK and elsewhere as an example of this.
"I'm having to now fill gaps in my knowledge about what the suffragette movement was, who the main players were, how it worked, because I don't know," she says.
"I wasn't taught that.
"I want to make sure in 20 years, museums that are going to outlive me are going to revisit these conversations."
Georgia still hasn't written her own letter; it's something she'll do just before she closes the archive.
"Lots of mothers and daughters have come in and written their letters together as an intergenerational activity which has been really beautiful," she says.
One of the themes that crops up frequently in letters others have written is 'women in leadership.'
Like the nine-year-old girl, one 26-year-old female letter writer is also keen to find if there's been a female US president.
"Was it Oprah?" she asks.
This 26-year-old she only realised she was a "feminist" in the last year.
"It always seemed like a big word with so many connotations," she writes.
"But now, I understand... it's standing up for myself and millions of my sisters."
Time capsules often remain unopened for much longer than 20 years, but Georgia had a reason for picking this duration.
"It's a long enough time that great change can be made," she says.
"But it's a short enough time that we can really conceive of revisiting what we're writing now. We want to taste its rewards.
"It's one generation of women. Those women are going to be eating the fruit from the seeds we plant now."
Reporting by Amelia Butterly and Georgina Pearce