100 Women: Being single doesn't mean I am 'available'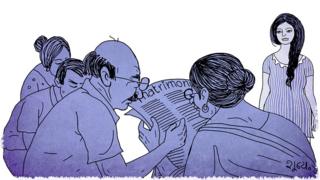 I was staring at the advertisement on the matrimonial page of a newspaper, seeking a bride for my younger brother.
One of my relatives had circled in red the words, "has an unmarried elder sister".
"The elder sister being unmarried will create a huge problem in finding a suitable girl for our boy," my relative said.
It felt like an arrow had pierced my heart. I winced in pain and fought back my tears.
I wanted to shout, to ask people why my decision to stay unmarried would stop my brother from finding a life partner.
I hoped my brother and father would stand up for me but they too were indifferent to my grief.
My mother has always understood me and tried to intervene in the conversation, but it didn't work.
Still, she was happy that her son was getting married.
#HerChoice is a series of true life-stories of 12 Indian women. These accounts challenge and broaden the idea of the "modern Indian woman" - her life choices, aspirations, priorities and desires.
Being the elder of the two, it was a foregone conclusion that I would get married before my brother.
But I didn't.
I was denying my parents a happiness they had looked forward to and it caused a lot of tension between us.
The difficulties extended to my relatives and even my friends.
One day an old schoolmate called, saying: "I know that you don't want to get married. But you have certain 'needs' and if you want, I can help you with them."
The only condition was that his wife and children should never learn about this arrangement.
I was stunned.
I was aware of my "needs" but that he could assume that I was "available" was unacceptable.
His proposal didn't make me angry, but the very thought of it really depressed me.
It was ridiculous that he called this a form of help or service.
It soured everything. The thought of meeting him scares me and I am hesitant to even talk to him now.
I am 37 now and I don't regret my decision to stay single.
I was 25 when I first told my mother I didn't want to get married.
I had just started earning my own money and I wanted to pursue my dreams.
I think she understood but felt helpless in the face of other people's questions.
As my career progressed the hunt for a groom intensified but I didn't want to get married just for the security it's supposed to bring.
I was acutely aware of what my parents were going through, as their daughter was soon going to cross the acceptable age of getting married and was still living with them.
My father was adamant that I "settled down" and so arranged for me to meet not one, two or three, but 15 men. I didn't pick any of them.
In a way that gesture eventually opened the space to explain why I didn't want to get married.
My parents came around but other people continue to judge my choice.
They see it as a "tantrum", that I'm too proud, too independent and don't listen to my parents.
When all else fails, they discuss my "character".
My conscience is clear and in any case, there is nothing wrong in having an affair or a live-in relationship.
All I want is to be free. Marriage feels like a form of bondage.
I can choose to stay at home all day or stay out all night. I can go to the club, the disco, the temple or the park. I can do housework - or not.
I don't want to worry about making tea for my mother-in-law in the morning or breakfast for my husband or getting the kids to school.
I have seen so many married women who have children and a big family and still feel lonely.
I don't feel alone; I have my family and friends.
An unmarried girl is considered to be a burden in our society but I have never been a burden.
I roam around the world, I earn my money and I have complete control on deciding how to spend it.
The newspapers that previously mocked me for being unmarried, now praise my courage for being a single woman.
My parents are proud of me and their friends point to me as an example of success to their daughters.
At the end it didn't really matter what anyone thought of my choice.
I made it for myself and I made it count.
This is a true life-story of a woman who lives in north-west India as told to BBC reporter Archana Singh, produced by Divya Arya. The woman's identity has been kept anonymous on request.
What is 100 Women?
BBC 100 Women names 100 influential and inspirational women around the world every year and shares their stories. Find us on Facebook, Instagram and Twitter and use #100Women
Other stories you might like:
I divorced my husband because he couldn't satisfy me
I live with my girlfriend but I'm not a lesbian