100 Women: 'I flirt with other men on social media'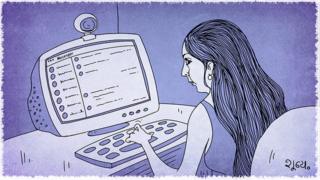 When I opened my Facebook account that day, there was a message from a stranger. I was shocked.
My husband wasn't home but I still looked around nervously.
"Hi, I wanna be friends with you," the message read.
I smiled and stared at the message for a couple of minutes, not sure whether to reply or ignore it. Should I write back to a stranger? What if my husband found out? How would he react?
Thinking about my husband made me angry.
It was because of his indifference that a mere "Hi" from a stranger could rattle me.
If things were different, I would have ignored the message but I was so angry that I replied, "Hi".
#HerChoice is a series of true life-stories of 12 Indian women. These accounts challenge and broaden the idea of the "modern Indian woman" - her life choices, aspirations, priorities and desires.
His name was Aakash. I didn't know him but accepted his friend request.
For some reason he was under the illusion that I was an flight attendant. I could have told him the truth but I liked the idea.
Since childhood I had been told I was pretty; milky white complexion, almond shaped eyes, sharp features, and a well-toned figure.
My parents were in a hurry and married me to the first man they liked but had no interest in romance or my feelings.
I'd imagined a husband who would often look at me lovingly, come up with small surprises or even just make me a cup of tea once in a while.
My actual husband is a machine. He wakes up, goes to work, returns late, eats dinner and goes to bed.
I understand he's busy but how much time does it take to say something nice to your wife? To give her a warm hug or look into her face with love?
My husband either doesn't have these feelings or doing something nice for me hurts his ego.
We have sex, but there is no romance; in fact, we've never indulged in any foreplay.
No matter how well I cook or manage our home, there is no appreciation.
I was lost in my thoughts when Aakash messaged me again.
He wanted to see my photograph.
The internet was unfamiliar territory to me. Even my Facebook account was created by my husband. He taught me how to accept a friend request and reply to messages.
I didn't have a profile picture and I was scared to upload images as I had heard that photographs could be stolen and put on pornographic sites.
But Aakash was very insistent.
I tried to evade the topic for some time, telling him that I wasn't a flight attendant but instead of being discouraged, he became even more insistent about seeing my photograph.
Even if I'd wanted to send him one, I couldn't, because I didn't have a single decent photograph.
Aakash was married with a three-year-old son.
He was working with an multinational corporation, travelled abroad and went to lots of parties.
He would tell me about girls drinking and smoking openly at these events.
All of this was new for me, a window to an unknown exciting world.
Like him, his wife had a high-paying corporate job. He told me that she was busy and they didn't spend much time with each other.
"I was upset about something and called her to share that but she was busy in a meeting," he told me.
I could completely relate to that.
We would chat every day and it was a lot of fun. So much so, that I would finish my chores quickly and wait for the afternoon in anticipation.
One day Aakash asked me to switch on the webcam.
I freaked out and went offline. I hadn't showered that day. What if he'd seen me like that?
He was still pestering me for a photograph and I didn't know how to handle it.
I just stopped going online during our usual chat hours and after a few days he blocked me.
It was inevitable but still, it broke my heart.
More than Aakash, I was angry with myself. I felt dependent and vulnerable. Why didn't I have a career and my own life? Had I been in a job, I could have lived life on my own terms.
I stayed away from Facebook for a few weeks but I was constantly haunted by memories of my time with Aakash.
It was my husband who benefitted most from my virtual relationship. Aakash filled the gap and I was a happier person.
I didn't do anything wrong. I didn't cheat on my husband, nor did I sleep with someone outside my marriage; I only chatted.
For a while, I wondered whether I should contact him again.
One day, I came across a different profile online. The man looked cute. I have no idea what got into me but I sent him a friend request.
"You're married, why did you send me a request?" he replied.
"Why? Do married girls not make friends?" I said.
That was it. It started again and this new man and I are still in touch.
He wasn't the only one. I saw another profile where the man had posted a photo with a few celebrities.
I thought it would be fun to know about his life, so I sent him a request and he accepted.
Life now seemed full and exciting. And then I got pregnant.
My daughter changed my life completely and I had no time for anything else.
She is three years old now and it's almost impossible to have any privacy.
There are times when I really want to talk to someone, but the minute I pick up my mobile she comes running and begs to watch cartoons on it.
It's very frustrating and I wonder if I'll ever be able to be the woman I once was, or whether being someone's wife or mother is my only destiny?
I won't let this happen to my daughter. I'll help her become an independent person so that she can make her own life choices.
This is a true life-story of a woman who lives in Northern India as told to BBC reporter Pragya Manav, produced by Divya Arya. The woman's identity has been kept anonymous on request.
What is 100 Women?
BBC 100 Women names 100 influential and inspirational women around the world every year and shares their stories. Find us on Facebook, Instagram and Twitter and use #100Women
Other stories you might like:
I divorced my husband because he couldn't satisfy me
I live with my girlfriend but I'm not a lesbian