100 Women: 'My parents abandoned me for their love affairs'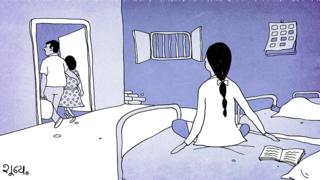 Like food that doesn't taste good or clothes that don't fit anymore, I too am a leftover. A leftover child. Abandoned by my parents when I was a baby.
Have they died? No! I am not an orphan. And that makes it more painful. My parents are alive and live in the same village as me. But behave like strangers.
They chose to leave when I was still lying in my crib, when I could only squeal with laughter or cry hoarse if I was hungry and wait for a lullaby to quiet me down.
There were no words or even an idea of loss or grief.
My father left my mother as soon as I was born to marry another woman and have children with her. And then my mother left. She too found love with another man.
And me? I don't even know what love is in order to miss it.
I was raised on pity in my maternal uncle's house. It was he who showed my parents to me when I was old enough to understand.
I looked at them with melancholic eyes. I thought they would pull me close and hug me. But they looked at me as if I was a stranger.
#HerChoice is a series of true life-stories of 12 Indian women. These accounts challenge and broaden the idea of the "modern Indian woman" - her life choices, aspirations, priorities and desires.
It was clear I was no-one's child.
So my uncle put me in a hostel run by an NGO. Little did I know that a rude shock awaited me there too as my father put my step-sister in the same hostel.
Seeing her reminds me every day that I am unwanted. I don't have any grudge against her. We talk often. She knows, I know and I know, she knows.
Yet, it is painful. My father visits her often and takes her home for holidays. I wait in silence and watch to see whether he will also call me to take me home.
But my wait always goes in vain. He does not even look at me.
I'm not sure whether he has any love towards me or if my step-mother would allow him to bring me to their home.
I hide myself from their sight and cry alone.
Unlike other children I don't look forward to holidays. Holidays mean having to work in the fields to earn money. Otherwise I don't get food.
Sometimes, I also rear cattle. I give my wages to my uncle's family. In return they give me food and shelter and I am allowed to save some money to buy stationery when school reopens.
But I still love both my parents. I am not angry with them.
I yearn for their affection. I dream of celebrating festivals with them. But both have their own partners and families.
I am not welcome at any of their doorsteps. I am scared to even try. So festivals come and go. Family celebration is a luxury I can't afford.
I just listen to the stories my friends narrate. Their holidays are what my dreams are made of. My friends are my real siblings with whom I share my happiness and sorrow.
I confide all my feelings to them and they care for me when I am tired of fighting alone.
And our warden is my real mother. It is through her I understand motherly love.
When my friends fall sick, she calls their family. But for me, she is the family. She does what she can. She offers the best clothes to me. I feel special at that moment. I get the feeling of being loved.
But there are some simple joys of life I have learnt to live without, like I can't ask anyone to cook my favourite dish.
I am in ninth standard at school right now. This hostel accommodates children only up to class 10.
I don't know where to go after that. My maternal uncle will not support me - maybe I'll need to work to earn my school fees. Because I am clear I will not leave my studies. My education is the only way for me to build my life - I want to become a doctor.
If I go back to my village, I might be pushed into marriage. It's not like I hate marriage or family, but I want to be independent first.
When I grow up I will marry a man of my choice. And I will make sure I raise a beautiful loving family with him.
This is a true life-story of a young woman who lives in southern India as told to BBC reporter Padma Meenakshi, produced by Divya Arya. The woman's identity has been kept anonymous on request.
What is 100 women?
BBC 100 Women names 100 influential and inspirational women around the world every year and shares their stories. Find us on Facebook, Instagram and Twitter and use #100Women
Other stories you might like:
I divorced my husband because he couldn't have sex
'Why I invented the glass ceiling phrase'