New Zealand PM to take part in nationwide Secret Santa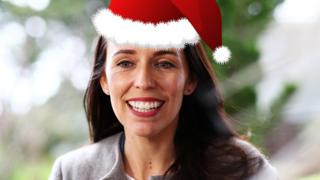 If you're negotiating the office politics of Secret Santa spare a thought for the New Zealander who draws the country's new Prime Minister, Jacinda Ardern.
Ms Ardern tweeted to confirm she is among almost 4,000 people across New Zealand who have signed up to take part in a nationwide Secret Santa.
For the uninitiated, Secret Santa sees participants draw names at random and buy (usually small) gifts for each other without revealing who they are from.
Those taking part in New Zealand's Secret Santa are set to discover who they have been paired with on Thursday.
As a self-described "ridiculous lover of Christmas", no doubt New Zealand's youngest prime minister since 1856 is fully on board with the 'it's the thought that counts' gifting philosophy.
But are there any clues from her first months as Labour party leader, and subsequently prime minister, about what her Secret Santa could get her?
Feminism
Ms Ardern is a passionate feminist and there was outrage in August during her first days into the job as Labour leader of the opposition when she was questioned repeatedly about whether she planned to have children.
In 2015 she set out her views on feminism in Villainesse, a feminist blog edited by her close friend Lizzie Marvelly.
"I am a feminist," she wrote.
"In my simple world-view, if you believe in equality, you should be a feminist."
However, would-be Secret Santas rushing to the bookshop to buy a copy of The Female Eunuch take heed. In the same article Ms Ardern writes that she is no scholar of feminist theory.
"For whatever reason I have always felt like my political views and drive came from my gut rather than a textbook," she said.
"And that's exactly the origin of my views on feminism...You can wear a bra, make-up, have never read Germaine Greer and still be a feminist."
Music
As a keen DJ, Secret Santas searching for gift ideas might want to consider a present linked to Ms Ardern's interest in music.
Last week she attended the New Zealand Music Awards and took to Instagram to share a picture from the ceremony.
Ms Ardern - the world's youngest female leader - also boasts a collection of ukuleles.
"I meant to graduate to the guitar but I never did," she told Time. Perhaps her Secret Santa could help her make the move.
Tattoos
A difficult one to arrange this - no one's going to turn up to get an unknown tattoo gifted by a person they have never met - but bear with us.
According to the New Zealand Herald, Ms Ardern's childhood hero was Ernest Shackleton, and if she were to get a tattoo it is reportedly an image of the explorer's Endurance crew hauling a lifeboat that she would go for.
"From when I was about 14 I really loved weird Antarctic explorers," she said. "Ernest Shackleton. Big fan of Ernest Shackleton.
"That's survival under the most extraordinary of circumstances."
Pets
Sadly, Ms Ardern's cat Paddles recently died in a car crash.
She paid tribute to the pet - whose "very squawky arrival" through the cat-flap had almost derailed her first phone call with US President Donald Trump - after Paddles' death.
"To anyone who has ever lost a pet, you'll know how sad we feel," she wrote on Facebook.
"Paddles was much loved, and not just by us."
It's rarely a good idea to gift pets for Christmas but perhaps a nice way to remember Paddles could be appreciated.
By BBC UGC and Social News team