100 Women: I found my work-life balance after my brother's death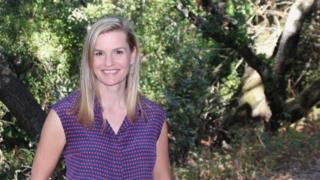 Sally Thornton has made it her mission to help companies enable their employees to find a better work-life balance. She explains how a tragic incident in her own life was the catalyst.
I was twelve when my older brother, Will, was hospitalised with leukaemia. Months later, he was the only one I saw who walked out of that cancer ward.
My family realised just how much of life is out of our control, and we developed a tight family bond.
Twenty years later, this bond was tested when my sister called and said: "Hey, let's all fly home to surprise Mom for her 60th birthday."
I wanted to celebrate, but I was raised with a mid-western work ethic - keep your head down, work hard.
I had jobs from the age of 14, even though it was illegal to have a job at that age.
Picking strawberries in the fields, then working in the ice cream parlour - I didn't make any money because I would eat all the ice cream.
That was kind of where my work ethic came from. I just loved to work. I loved to contribute something, make something.
I graduated college in a recession. I moved to New York. It was just that mentality of "dive in, work all the time, you're 23".
I'm a high energy person, and I still found New York kind of overwhelming.
I started dating my now-husband - he was an investment banker. We'd only see each other on Saturday nights and we thought that was totally normal.
What is 100 Women?
BBC 100 Women names 100 influential and inspirational women around the world every year. In 2017, we're challenging them to tackle four of the biggest problems facing women today - the glass ceiling, female illiteracy, harassment in public spaces and sexism in sport.
With your help, they'll be coming up with real-life solutions and we want you to get involved with your ideas. Find us on Facebook, Instagram and Twitter and use #100Women
---
Then I came to Silicon Valley, and we all know what Silicon Valley demands.
Did I mention that I was also pregnant with my first child? That meant putting in even longer hours to prepare for maternity leave.
To actually pause on my "dedication" to work and attend Mom's birthday, I needed not only that tight family bond but also explicit permission from my boss (and implicit permission - I watched his body language).
He said: "You should go."
'The last pictures I have'
So we're - I'm not going to say cheap, I'm going to say frugal. My dad actually rented a limo, which is ridiculous.
Not only was it extravagant and he never spends money, but it was also a little cheesy. It was really funny. We made Mom wear a boa, like things she would not do.
We actually took a family picture, and I was pregnant, so I had chipmunk cheeks. We really documented and did something different. And those are the last pictures I have.
It's one of those things where you're like, "Oh, thank god", you know, we didn't come with just a cake and get out.
Two months later, a phone call came that changed my life. Will was killed in a plane crash. He was 37.
Mom's birthday was the last time I would ever be teased by him, would ever hug him.
Cleaning out Will's apartment, I remember Mom saying: "Sally, I know you love your work, and I don't want you to stop working.
"I just want you to re-think how you work because you're about to have your first son and I just lost mine."
It planted the seed. The seed then got watered by, "How the hell do I go back to work?" Alex was a baby, so this was 14 years ago.
All of my head-down, work-all-the-time norms needed to shift. I had to rethink everything.
I've since founded two companies with the purpose of rethinking how we do our best work on terms that work for our full lives.
It's about taking control of your time - where and when you work - with a focus on clear goals and a more modern approach to how we work.
As a mother of two teenagers now, having just a little more control over life is more important than ever.