When 'I do' becomes 'I don't'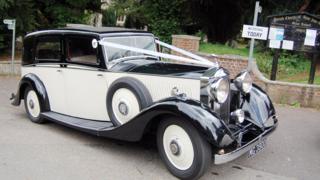 You are the chief bridesmaid for your best friend's wedding - but when the big day arrives, the bride-to-be says the wedding's off.
This is what happened to one bridesmaid who took to a forum on Mumsnet over the weekend to get some urgent help.
In a frantic post, she wrote: "I'm chief bridesmaid for my best friend TODAY, AND SHE's just decided she can't go through with it. We're in a hotel, both of the families are here as well as quite a few of the guests. Apparently drowning myself in Prosecco is not an option, so I need practical advice."
Mixed reaction
There was a mixed reaction from the forum, with many expressing their sympathies for the groom:
"She's doing the right thing but should stay around to sort it herself. Poor groom. She is only brave if she faces the music and sorts the whole mess out herself."
"I hope it's done sensitively. Right or wrong, poor man."
"If I were the groom I'd be continuing with all the festivities bar the ceremony, already paid for after all, and celebrating the lucky escape - bless him."
Others thought the decision to cancel would be the best solution in the long run:
"I feel incredibly sorry for the groom, but what is the bride supposed to do? Go through with it? Splitting up now will be - legally - a LOT easier and cheaper than if they go through with the marriage and then split tomorrow."
"Anyone who decides they do not want to get married should cancel, even at the last minute. Because marrying when you know you don't want to, is not a good course of action."
There was disagreement as to what the bridesmaid should do:
"I wouldn't be worrying about the practicalities, I'd be leaving her to it as it would be the end of the friendship. I couldn't remain friends with someone as cruel as that."
"If it were my friend I would absolutely help her. I think the main thing will be sticking up for her and shielding her from guests who are either angry or being nosy."
Calling the whole thing off
But how easy is it to cancel at the last minute? Emotions aside, there were many ideas on how to solve the problem:
"Get a list of the guests. Work out who absolutely must be phoned and assign someone appropriate to call them. Tell the hotel - they can stop preparing the food or rooms and get someone out front to greet guests and suppliers who haven't got the message in time."
"Call the photographer, videographer, celebrant, florist, any musicians or DJs and let them know it's off. If there are any cars or other transport booked let them know too."
"Get the bride out of there to somewhere quiet and away from the fuss. You're her friend, look after her. The groom will have his friends and family taking care of him."
"Harsh to make the decision on the day of the wedding. However, we don't know the full circumstances. She could have found out something devastating the night before or something. If it were me, I would have feigned a heart attack or sudden illness that prevented the ceremony from going ahead. I am sure this has happened many times in reality. Saves all the humiliation."
Financial loss
Steph Robson, of the Perfect Wedding Company, told the BBC cancelling on the day would be a huge logistical nightmare.
"As a rule, most things are paid for in full some time before the event, so that would be a great financial loss for whoever is footing the bill. The next thing to consider is what to do with what has been ordered such as catering, transport and flowers.
"My advice would be to keep calm. If everyone is at the ceremony, you'd have to let people know first and foremost. I think, good for her for not committing to someone she does not want to be with."
Dave Ricards, of Tonic Parties, provides entertainment and would normally have been fully paid before the wedding day.
"Technically, if I was booked and fully paid, expecting to work that wedding, I would not issue a refund, as cancellation would be less than two months' notice and I would have lost a night's income."
Cancel or carry on?
Despite the upset and heartache caused by cancelling a wedding on the day, some have shared their stories of why it is a good idea to bail out rather than wait until after the ceremony:
One poster recounted: "I was bridesmaid at a wedding that should never have happened. Even on the morning of the wedding I remember thinking that it shouldn't be happening. Within a few months the cracks in their relationship were massive and well within a year they were separated. The bride later admitted she wished she had been brave enough to cancel even at the last minute. She said it would have been far easier to call it off than to be divorcing and to have to be reminded what a coward she had been by not cancelling every time she had to refer to herself as a divorcee."
Another person said: "The bride's father had to tell a church full of people that there was not going to be a wedding. The bride had been living with the man she was going to marry for seven years - she had met somebody else at work to whom she has now been married for over 15 years."
What did the bridesmaid do?
The bridesmaid was very grateful for the online responses. She said:
"Thanks for all the advice. I'm truly sorry for those of you who have shared your stories, but I'm not going to go into the emotional side on here, today is about practicalities. Those of you have given practical advice, thank you. I've been compiling a to do list on the back of all your help.
"She paid for the entire thing so she's very aware of how much money has been wasted."
The interactions continued into the following day, but the final word goes to the bridesmaid on Sunday morning:
"The groom and his family left straight away. The not-bride spoke to every guest who was already at the hotel yesterday and rang everyone else. She has offered to reimburse all travel costs. It was a 'no gift' wedding so that isn't an issue.
"She spoke to the groom this morning and arranged to go round to get some stuff and have a chat about the logistics of everything later.
"The reception didn't go ahead. Some of the guests stayed and had lunch again covered by the bride, most went home. I tried to find a charity to give the food to but as it was a Saturday most of the offices were closed so I couldn't and the local hospital wouldn't take the flowers. So the best I could do was the flowers and cake went to a nearby old people's home.
"Thank you everyone for your advice, some of it was really useful."
Compiled by Sherie Ryder, UGC and Social News team.