Idea to cast DiCaprio as Muslim poet Rumi causes outcry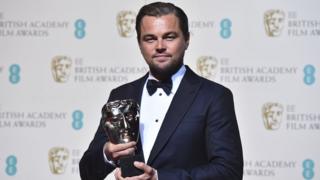 Reports that white Oscar winner Leonardo DiCaprio could be playing a 13th Century Persian poet hasn't gone down too well on social media.
It's after screenwriter David Franzoni revealed in an interview how he wants to challenge Muslim stereotypes in films.
He is working on a biopic of the Sufi poet Jalaluddin Muhammad Rumi.
"He's like Shakespeare - he's a character who has enormous talent and worth to his society and his people," says Franzoni.
"Rumi is hugely popular in the United States. I think it gives him a face and a story."
But what drew criticism was that the face Franzoni said he would like to use to portray the Persian poet is that of Leonardo DiCaprio.
Social media users took to Twitter to vent their frustration.
The hashtag #RumiWasntWhite began circulating and since Monday has generated 12,000 tweets.
@Madihasaj tweeted: "So, Idris Elba can't play Bond because that is a white character but Leonardo DiCaprio can play Rumi #RumiWasntWhite."
@yziadat posted: Are there not enough actors of colour to choose from, or are they too busy being cast as terrorists and taxi drivers #RumiWasntWhite."
Rumi was born to native Persian-speaking parents originally from Balkh in present day Afghanistan. He travelled to Baghdad, Mecca and Damascus before he died in Konya in modern day Turkey in the 13th Century.
@jamsternazzy tweeted: How DARE you take one of my mystics, a man that makes me proud to be #PERSIAN, and whitewash him #RumiWasntWhite."
@mariamamini posted: "Rumi was born in Balkh, Afghanistan. He was Afghan, get it right if you are gonna make a film. #RumiWasntWhite."
Others shared memes and images to highlight their disapproval.
So strong was some of the anti-DiCaprio sentiment that details of an online petition are being shared which has reached almost 10,000 signatures.
It reads: "This whitewashing would effectively strip Rumi of his identities as a Muslim and a migrant from modern-day Afghanistan. We have to let the producers know that we won't support such a film."
Diversity
The lack of diversity in film is a contentious issue. Earlier this year there was criticism that The Academy had failed to nominate a single black actor in its leading Oscar categories for a second year in a row.
More recently Marvel has also faced opposition to its casting of Tilda Swinton as a Tibetan character in Doctor Strange.
In addition, the castings of Scarlett Johannson as a Japanese character in Ghost in the Shell and Zoe Saldana as the darker-skinned Nina Simone have also come under fire.