The Queen at 90: The world celebrates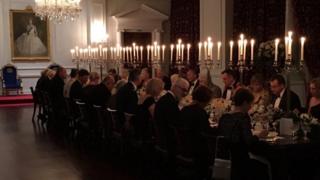 As Queen Elizabeth II celebrates her 90th birthday, the royal occasion has been marked by celebrations across the world. Here are some of the ways her big day has been celebrated.
Coronation chicken
The Governor General of New Zealand tweeted the above picture of a formal banquet in celebration the the Queen's 90th birthday. As well the Queen's picture looking down over the proceedings, the menu is also respectful of her reign.
A British high tea in Australia
Scott Castledine in Sydney, Australia, has met the Queen and decided to celebrate the birthday by bringing a bit of the UK to Australia.
"It was a traditional British high tea with scones and jam and cream. We had pictures of the Queen and her consorts on display. It was an impromptu plan. 90 years is a massive achievement.
It was good to bring everyone together her in the office. I met the Queen when she came to open a faculty at my university, many years ago. She is an awe-inspiring figure."
Present and correct in India
The Deputy High Commission in Ahmedabad, India, look on intently as an address is made in honour of the Queen.
God Save the Queen
Marion Goodwin in Frankfurt, Germany met the Queen in 2015.
"In order to celebrate this special day I decorated my office and laid on some cake for my colleagues.
My entire flat is decorated with various items bearing the Union Jack or other British icons. I absolutely admire Her Majesty, she is a wonderful and beautiful lady.
I saw her when she visited Frankfurt last year. It was very special for me and I cherish the memories of that day."
Compiled by Alison Daye.