'I live every day like there is no tomorrow' - your lucky escapes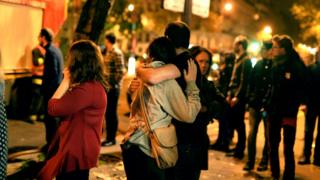 Tragedies and natural disasters leave us all feeling shocked and vulnerable but how do you feel in that moment when you hear the news and realise that "it could have been me"?
From the recent train crash in Germany to the terror attack on the World Trade Center in 2001, we have been speaking with people who feel they narrowly escaped death.
---
Surviving the German Train crash
10 people were killed after two passenger trains collided in the German state of Bavaria on Tuesday, 9 February. One passenger, Joe Adediran from Rosenheim in Germany says he was saved because of where he was sitting.
"I'm an electrical engineer and was travelling on the train between Rosenheim and Holzkirchen.
Suddenly the driver hit the emergency brake and the train derailed from the back.
There was a loud noise and it went dark. There was a lot of screaming and shouting taking place. The passengers facing forwards on the train were injured - there was blood everywhere when people hit their heads on windows and seats.
Fortunately, my seat was facing backwards but I still feel that I had a lucky escape."
---
Boxing day Tsunami last minute holiday swap
Melanie McConville from Cornwall, UK, changed her holiday plans in Thailand and avoided the Boxing Day Tsunami in 2004. Here she tells the BBC her story:
"Myself and a group of eight friends booked a two week dream holiday over Christmas in 2004.
We were due to stay in beach huts in Phuket on the coast of the Andaman Sea and Koh Samui which is an island in the Gulf of Thailand.
A month before our departure we all gathered for a meal and decided after a lot of discussion to swap the holiday around, to spend Christmas in Koh Samui and New Year in Phuket.
After an amazing week in Koh Samui we were due to arrive in Phuket on the afternoon of 26 December.
We didn't get there because the tsunami struck Phuket.
Had we not changed the holiday all nine of us would not be here now.
Koh Samui was protected by the force of the Indian Ocean tsunami because it is in the Gulf of Thailand.
The beach huts we were due to stay in Phuket were swept out to sea.
It has taken me a very long time to get over the events.
I have not travelled abroad since then.
Something like that makes you completely reassess everything.
Now each time I speak to my family, friends and loved ones I always make sure I tell them that I love them, every single time without fail.
I never did that before."
---
I missed dinner on the night of the Paris attacks
On 13 November 2015, Emma Miller from Paisley in Scotland, UK, was due to go out to dinner in Paris where gunmen killed 130 people. Here she recounts what happened:
"I went on my first solo trip to Paris last November. I know the streets fairly well and went straight out, enjoying my first day there.
On the evening of the Paris attacks, I had plans to go out to dinner, but instead I fell asleep at the hotel.
I was woken up by a hotel worker as my family and friends had been trying to get in touch.
I was staying close to where many people had been killed.
Missing dinner saved me as I would've almost certainly been in the area where the gunmen shot and injured so many people.
I love Paris, and this was a valuable life experience.
I am not a religious person but I do make sure I live every day like there is no tomorrow."
---
A biased view of luck - An expert's view
"After an event some people can be considered lucky in that things turned out well for them.
But this is not a characteristic of the person, next time they may not be so fortunate, although some people make their own 'luck' by practice and careful planning.
Many people like to think there was some reason for their apparent good luck, or that fate or providence was acting.
I think this is a delusion.
For every person with a lucky escape, there is someone with an unlucky tragedy.
The crucial difference is that we don't get to talk to them afterwards, and so we get a biased view of luck.
Near misses can make some people more spiritual, but remember we only hear from survivors, the unlucky ones might have a different opinion"
---
The dentist appointment on 9/11
Kathleen Hunter in Connecticut, USA missed the attack on the Twin Towers on 11 September because she had a dentist appointment.
"I worked in one of the closest offices to the Word Trade Centre, and had a dentist appointment scheduled that day.
Following my visit to the dentist I planned to work from home.
My cell phone rang and it was my brother asking where I was.
He told me a plane had hit the twin towers.
I turned on the TV and I was concerned about all my co-workers.
I didn't tell everyone I was getting my teeth cleaned so understandably people were worried.
I spent most of the day letting everyone know that I was ok.
I feel very blessed I wasn't there when it happened and didn't have to deal seeing some of things my colleagues saw.
But I do not really feel like a survivor as I simply was not there when I normally would have been - like getting a coffee in tower two as I often did.
Being an engineer I thought it was my job to help rebuild the city, so a year or so after 9/11, I moved into the city and worked on lots of infrastructure.
I've become more fearless and have a bigger world view.
I am less afraid."
---
The man who left work early and caught a different train at Potters Bar
Richard Cholot, 38, from Birmingham finished work earlier than usual on the day of the Potters Bar train crash
"I was working in Potters Bar at the time, and on the day of the train crash I was able to leave the factory where I worked 10 minutes earlier then usual.
I caught a train from Potters Bar to Hatfield and when I arrived at Hatfield I started hearing that the train behind us had just crashed.
I saw helicopters and reached straight for my phone to see if I could find out any more details.
I went very white and felt sick as the realisation hit me that I could've been on that train if I hadn't by chance left work early that day.
I am not a spiritual or religious person, so I believe it was pure coincidence and luck that I am here today."
---
Compiled by Rozina Sini
"I have not travelled abroad since then": Your lucky escapes