Greek debt crisis: What does the tax rise mean for you?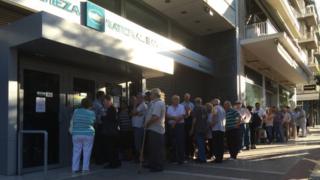 After three weeks of bank closures, eurozone leaders reached an agreement over the Greek debt crisis. How are you coping with the debt crisis?
Banks are now open but many restrictions still remain, including a block on money transfers abroad and price rises with an increase in Value Added Tax (VAT).
The daily bank withdrawal limit has been changed to a weekly one which means that Greeks no longer have to queue every day.
While some economic stability returns, long term problems, like high unemployment remain.
Are you in Greece? Do you own a business? How will the tax rise affect you?
You can share your experiences by contacting us in one of the following ways: