FIFA, extradition and Blatter: How will it play out?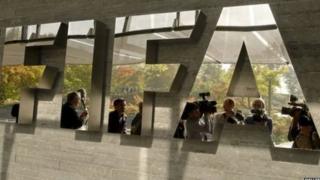 Seven officials from world's governing body Fifa are facing extradition to the US, after being arrested by Swiss authorities last week on corruption charges.
Fifa president Sepp Blatter is not one of them but he has announced he will resign.
There is a bilateral extradition treaty between the US and Switzerland. Here is a guide to how extradition between the two countries works, and the issues that this case is likely to throw up.
---
Why is extradition being sought?
The US justice authorities have indicted 14 individuals for allegedly accepting bribes and kickbacks estimated at more than $150m (£97m). The US Department of Justice has confirmed the charges relate to racketeering, wire fraud and money laundering conspiracies "among other offences" and an alleged "24-year scheme to enrich themselves through the corruption of international soccer".
"The indictment alleges corruption that is rampant, systemic, and deep-rooted both abroad and here in the United States," said US Attorney General Loretta Lynch.
Of the 14 indicted on corruption charges, the seven Fifa officials, all from or working in the Latin American and Caribbean region, are being held at detention centres following their arrest at a Zurich luxury hotel last Wednesday. All seven have contested extradition.
Both Swiss and US justice officials have said the indicted officials had allegedly received $150m worth of bribes from the early 1990s for football tournaments in the US and Latin America. The alleged crimes were agreed to and prepared in the US via US bank accounts.
---
How does the extradition process work?
Once the extradition request is made by the US authorities, it's essentially a three-stage process:
(i) the Swiss Federal Office of Justice Extradition Unit (FOJ) accepts the extradition request, examines it in order to be satisfied that it contains all the necessary information and that extradition is possible. If satisfied it will order the police to detain the person - evidence and goods acquired as a result of the offence will be seized. The FOJ makes a decision as a first instance court.
The essential condition that needs to be met is dual criminality i.e. whether the offences that the extradition request alleges have been committed would also be punishable under Swiss law - and on the facts of this case, I don't anticipate that will be a problem for the US. They do not need to be precisely the same offence - for example, theft in one country can be called embezzlement in another. Generally the FOJ will issue an extradition warrant and invite the requesting state to issue a formal extradition request. There is a 40-day time limit for the requesting state to do this.
(ii) the defendant can then appeal to the Federal Criminal Court (FCC). Both the wanted person and the FOJ can appeal against its decision up to the Supreme Court in certain cases. The wanted person can apply to be released from custody at any stage during extradition proceedings.
(iii) the FOJ then makes the final decision on extradition. Note that questions of guilt or fact are NOT examined as part of the extradition proceedings, so there is no examination of whether the wanted person committed the offence.
In terms of the amount of evidence required for the extradition, Article 9(3)(b) of the Swiss/US Treaty requires a "reasonable basis" for concluding the defendant committed the crime.
Normally extradition will have to wait until criminal proceedings in the state to whom the request is made have run their course. On the same day they carried out the arrests under the US extradition request, the Swiss authorities opened a separate criminal investigation of their own into the awarding of the 2018 World Cup to Russia and the 2022 event to Qatar. It has been reported that for now these cases do not appear to involve the same men, so the pending Swiss case would not interfere with their extradition.
---
Will extradition be successful?
"At this stage the scope for these men to resist extradition seems limited. The US looks to have a firm evidential basis for its case, and international corruption is regarded by all nations as a very serious crime. I anticipate that the US will be able to satisfy the Swiss legal conditions for extradition," says expert extradition barrister Julian Knowles QC.
---
Is Sepp Blatter's Swiss nationality a factor?
Sepp Blatter, who announced on Tuesday that he would resign as Fifa president, has not been indicted and his extradition is not being sought by the US. Should that change, Blatter, who is Swiss, would have protection from extradition from Switzerland because Article 7 of IMAC (the governing Swiss law) prohibits the extradition of Swiss nationals.
Switzerland is not alone in reserving the right to refuse to extradite its own nationals. One way around this would be for the US to ask the Swiss authorities to conduct criminal proceedings on its behalf against Blatter.
---
What happens if he leaves the country?
If he were to move abroad at a time when an indictment was presented by the US authorities to the country he was visiting, he would be much more vulnerable to an extradition request. Assuming it was a country which had extradition arrangements with the US, a normal extradition process could take place.
The US could possibly seek what is known as an Interpol "red notice" - sometimes described as the closest thing to an international arrest warrant.
The information disseminated via notices concerns individuals wanted for serious crimes, and would lead to the arrest and detention of a suspect who left a country where they were immune from extradition.
---
How long will the process take?
Predicting how long the extradition process will take is always difficult, because it depends in part on what the defendant does, but if appeals are taken, a year or so would not be uncommon.
"From the time of arrest to the final enforceable decision, it would easily take two months (for extradition), a few months, if there are not too many complex legal issues. Not years," Peter Cosandey, a Zurich-based lawyer and former provincial district attorney, told Reuters.
---
What history does Switzerland have in dealing with extradition cases?
Swiss law can provide exemption from extradition in respect of allegations of tax crimes. Mark Rich, the American billionaire commodity trader and hedge fund manager, lived up to his own surname in a luxurious Swiss villa in the 1980s and 1990s while refusing to return to the US to face what was then the biggest tax evasion case in US history. He was controversially pardoned by President Bill Clinton before his death in 2013.
That case added to Switzerland's reputation as a country where rich and influential foreign nationals can sometimes evade justice for crimes committed in their home country.
However, other than in tax-related cases, Switzerland has a reasonable history of dealing with extradition requests.
High-profile cases include film director Roman Polanski. He was arrested as he arrived in Zurich for a film festival in September 2009 at the request of US authorities following a 1977 charge of having sex with a 13-year-old girl in California.
Polanski was released from custody after lodging $4.5m bail, agreeing to wear an electronic monitoring tag and surrendering his identity and travel documents while under house arrest in his chalet in the Swiss ski resort of Gstaad. The authorities did not extradite him because of potential technical faults in the US request regarding legal arguments that Polanski had already served his sentence before fleeing Los Angeles in 1978.
Russia's former Nuclear Energy Minister Yevgeny Adamov was extradited from Switzerland to Russia in 2005. That ruling irritated the US, which had wanted his extradition on fraud charges.
Saudi financier Adnan Khashoggi was arrested while in Switzerland for medical checks at the US's request in 1989 on charges of racketeering and fraud linked to theft by former Philippines President Ferdinand Marcos. His extradition back to the US was concluded in a speedy three months. He was never convicted.