Snapshot: The mounting problems facing the world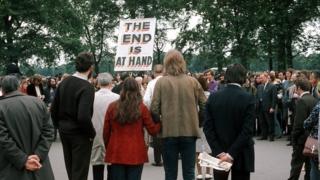 In 2010, Cambridge professor Nicholas Boyle said "a great event" in the year 2014 would be pivotal in determining whether the 21st Century would bring peace and prosperity or war and poverty.
With the loss of two Malaysia Airlines flights, the kidnapping of 200 schoolgirls in Nigeria, war in Gaza and Israel, the emergence of militant group Islamic State in the Middle East, tensions in Europe over Ukraine and the Ebola outbreak in West Africa, his prediction may seem prescient.
BBC News takes a look at some of the crises facing world leaders, as Nato members gather in the Welsh city of Newport for a summit.
---
Ukraine
Western leaders have described the Ukraine conflict as the biggest crisis in Europe since the end of the Cold War.
Tensions erupted when Russia annexed the Black Sea peninsula of Crimea in March. Two months later, pro-Russian gunmen declared independence in the eastern regions of Donetsk and Luhansk.
Some 2,600 people have been killed in fighting between Ukrainian troops and the separatists since mid-April, according to the UN.
This does not include the 298 passengers and crew of Malaysian Airlines MH17, which was shot down - probably by rebels, accidentally - in the Donetsk area in July.
The Ukraine conflict has pushed Nato's relationship with Russia to new lows, with the alliance accusing Russia of sending at least 1,000 troops and hundreds of armoured vehicles into eastern Ukraine.
The EU and US have already imposed a series of economic sanctions on Moscow for backing Ukraine's separatists.
The Ukrainian government and pro-Russian rebels have now signed a truce deal.
LOOKING AHEAD: Emma Bonino, the former Italian Minister of Foreign Affairs, told the BBC the ceasefire was only "the beginning of the story".
"How can we [the EU] support Ukraine and Poroshenko? How will we settle our relationship with Russia? We have major disagreements and overlapping dependencies over energy and international affairs."
Even when the Ukraine conflict is on hold, "the relationship between the West and Russia is a problem that is here to stay," she said.
Ukraine in maps: How the crisis spread
---
Syria
The Syrian conflict has just entered its 42nd month. Described by the UN as "the biggest humanitarian emergency of our era," almost 50% of all Syrians have been forced to flee their homes because of clashes between government forces and rebel fighters, which include jihadists from Islamic State and al-Nusra Front, an al-Qaeda affiliate.
This time last year, the US and its allies came very close to launching punitive military air strikes on government positions after a deadly chemical weapons attack killed hundreds of civilians on the outskirts of Damascus.
But when the UK Parliament voted against intervention, depriving US President Barack Obama of crucial support and sowing doubts among US politicians, the move was quickly quashed.
A positive outcome of the chemical weapons crisis was the destruction of Syria's chemical weapons stockpile, although there are fears that some weapons remain unaccounted for and may be used by government forces or end up in the hands of extremists.
President Bashar al-Assad has been gaining the upper hand in the conflict, with the rebels beset by divisions and denied the heavy weapons they need by their foreign backers.
Questions remain over whether more could have been done to prevent the chaos seen today in the region, with Syrian sectarian tensions spilling into neighbouring Lebanon and Iraq.
The divisions among Syria's rebels have also created a void that led to the birth of an entity posing a whole new threat to the region: the rise of Islamic State.
LOOKING AHEAD: Experts say the complexity of the conflict means it is difficult to see how it will end.
Shashank Joshi, a senior research fellow at the Royal United Services Institute (Rusi), says an added difficulty is that both sides have become fragmented.
"Not just the rebels, but also the regime, are fracturing, with non-official actors such as militias that may operate with some autonomy from Damascus. This makes a peace agreement look much harder."
"However, I see no sign that Assad's grip is weakening - I expect to see the regime still firmly in place in a year's time."
Syria chemical attack: What we know
---
Islamic State
The Syria conflict has become overshadowed by the rise of the Islamic State (IS) group, which has seized vast swathes of eastern Syria and northern and western Iraq. The militants' emergence has prompted US military intervention in the region once again.
Formerly known as the Islamic State in Iraq and Levant (Isis), IS has developed a reputation for its brutal tactics. Its mass killings and abductions of members of religious and ethnic minorities, as well as the beheadings of two US journalists, have sparked fear and outrage across the world.
IS has been an active force in Syria since April 2013. Its size is unclear, but it is thought to include thousands of fighters, many of them foreign jihadists.
The number of fighters IS has drawn from European countries and the US has shocked many in the West.
The group's capture of Iraq's second largest city of Mosul in June was due in part to its support from Iraq's Sunni Arab minority community - including tribal militants and former army personnel - who were disillusioned by the exclusionist policies of outgoing Prime Minister Nouri Maliki.
Iran subsequently dropped its support for Mr Maliki's bid for a third term in office and even suggested working together with the US to counter the threat of IS.
LOOKING AHEAD: Despite the group's dramatic rise, some analysts believe their momentum is being reversed.
"In recent weeks, they've made spectacular losses," Afzal Ashraf, a consultant fellow at Rusi and former counter terrorism specialist in the British armed forces, says.
"The Mosul Dam was lost a few weeks ago, through a combination of peshmerga fighters and Western air strikes. It was because of that, that 48 hours later they beheaded James Foley. That was... a desperate attempt to try to persuade the US not to attack it."
"IS has arisen primarily due to the failure of Al-Qaeda," he adds.
---
Militant Islam
Islamic State is not alone in trying to establish an Islamic caliphate in the world.
Nigeria's militant Islamist group Boko Haram says it has set up its own caliphate in the areas it controls in the north-east of the country. The group's kidnapping of more than 200 schoolgirls near Chibok, Borno state, in April sparked global outrage.
It has stepped up its campaign against the Nigerian army in recent weeks, even carrying out cross-border raids into Cameroon.
Meanwhile, al-Qaeda's affiliates in Yemen and North and East Africa continue to plague governments and national armies there, although they don't always make the headlines these days now that IS has stolen the limelight.
Islamist militant group al-Shabab continues to control large swathes of territory in rural areas of Somalia and carry out bombings and assassinations in the capital, Mogadishu. It said it was behind last year's dramatic siege of the Westgate mall in the Kenyan capital, killing at least 67 people.
LOOKING AHEAD: Mr Ashraf argues that these militant groups have become ideologically weakened.
"All of these groups are in a confused situation. They don't really know who to look at in terms of global leadership - most of them have pledged allegiance to al-Qaeda, but are seduced by the military success of IS," he says.
"I think the ideological confusion will have, over a period of time, a degree of impact on their ability to carry out attacks... when you have a leadership and ideology that is in internal disarray, this will have a demoralising impact on most of their troops."
US and France battle al-Qaeda in Africa
---
Afghanistan
There has been no let-up in the intensity of violence and attacks carried out by the Taliban since US-led combat troops started to withdraw from the country.
The Afghan army has seen a rise in the number of casualties as it increasingly takes over the front line in the battle against militants. The situation is not much better for civilians, with casualties rising 24% in the first half of 2014. The army hopes to secure more funding from Nato leaders to better equip its soldiers.
Meanwhile, Afghanistan remains embroiled in a political crisis over the disputed presidential election, which would be the country's first democratic transfer of power.
The UN is in the process of auditing every vote cast after the two rival candidates, Ashraf Ghani and Abdullah Abdullah, both claimed victory. They have publicly agreed to form a national unity government whatever the outcome of the audit.
Both have committed themselves to signing a security agreement with the US which will allow foreign forces to stay in Afghanistan after 2014.
LOOKING AHEAD: Experts say high risks remain in the long term.
"[The country] has strong national forces. Forces are well funded until 2017, but, we have to start asking questions about whether the US will keep pumping millions of dollars into a state they see as vulnerable to corruption after that," Mr Joshi says.
"The insurgency is not going away - and if the money dries up, it will start finding easier pickings."
---
Israel-Gaza
This summer has seen some of the deadliest violence in years between Israel and Palestinian militants in the Gaza Strip.
Israel launched a massive military operation on 8 July to halt rocket attacks from Gaza. By the time a long-term ceasefire was brokered by Egypt on 27 August, more than 2,100 Palestinians had been killed, along with 66 Israeli soldiers and seven civilians in Israel. Commentators said there were no clear victors, but for now the truce is holding and the reconstruction of Gaza - where about 17,000 homes were destroyed or severely damaged, leaving an estimated 100,000 people homeless - can begin.
LOOKING AHEAD: Analysts say conditions in Gaza are unlikely to improve.
"Without American pressure, the right-wing Israeli government is not going to stop building settlements," Professor Fawaz Gerges, chair of Contemporary Middle Eastern studies at the LSE, says.
"If [Barack] Obama can't bring together a two-state solution, I don't think any other president in the foreseeable future can do so.
"I don't expect any breakthrough in the near future."
Gaza crisis: Toll of operations in Gaza
---
Ebola
World Health Organization (WHO) officials have described the Ebola outbreak in Western Africa as the "largest and most severe and most complex" they have ever seen.
At the time of writing, more than 1,900 people have died, with some 3,500 confirmed or probable cases in Guinea, Sierra Leone and Liberia. The outbreak has also reached Senegal and Nigeria.
The speed at which the epidemic is spreading is a real concern for health officials, who say more than 40% of the total deaths occurred in the three weeks leading up to 3 September.
Cumulative death toll - up to 31 August
The crisis is having knock-on effects elsewhere, with Thai sailors fearful of sailing to the region, which is affecting the supply of the millions of tonnes of rice they usually bring in. Students have also faced school closures in Nigeria.
LOOKING AHEAD: "The scale of the outbreak at the minute is absolutely unprecedented and resources are spread too thin," Jonathan Ball, a professor of virology at the University of Nottingham, says.
"The fact that the disease is in large metropolitan cities with areas of abject poverty is also particularly challenging - these things are aiding the virus's transmission."
The current means of infection control and prevention are not having enough of an impact, which means that vaccines and treatments may have a role in the outbreak in the medium term, he adds.
Oliver Brady, an epidemiologist from the University of Oxford, estimates that there are probably around 50,000 people who could need treatment, including preventative treatment.