World Cup withdrawal: Superfans face life after Brazil 2014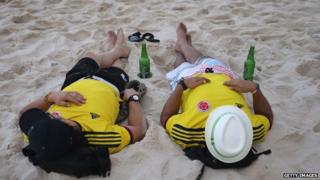 They have lived and breathed football for a month, following every kick of every game their chosen teams have played.
Some have even seen every single minute of World Cup action - even though none of their own countries qualified for the finals in Brazil.
They have passed up job opportunities, faked illness, fabricated work commitments and lost friends.
Meet the World Cup's global superfans, who are facing withdrawal symptoms and contemplating life after Brazil 2014.
Amreen Bhujwala, 24, Bangalore, India
I quit my last job as an editor of a sports website in June, just as the World Cup started.
I decided not to take up a new job offer until the World Cup was over because I would have been forced to miss a game, which I didn't want to do. I will get back into the job market once it is over.
I am a Muslim and the tournament is coinciding with Ramadan. Since the matches have been taking place late at night, I have been watching the games, then fasting and losing out on sleep. But I don't regret any of it.
I am supporting Germany. Their 7-1 semi-final win against Brazil was amazing.
I knew that with Neymar and Thiago Silva being out, Brazil weren't going to be up to the mark. But with Germany's recent semi-finals record, I was scared, then relieved when we won. It was like a burden finally being lifted.
I have watched every single match during this World Cup. The best moment for me so far was during the Netherlands' quarter-final victory over Costa Rica when Dutch coach Louis van Gaal brought on substitute goalkeeper Tim Krul for the penalty shootout. I thought that was brilliant.
The worst moment was defending champions Spain losing to Chile and bowing out of the tournament.
This could be the last World Cup for Iker Casillas and Xavi and though I am not a huge fan of Spain, that was a heartbreaking moment for their fans because we may not see these two magnificent players play for Spain again.
Melih Kocagil, 33, Istanbul, Turkey
I am a big fan of [Istanbul club] Besiktas. I live in the Abbasaga neighbourhood of Istanbul, which is one of the bases for the most passionate Besiktas fans. I try not to miss a single game at home.
My favourite teams in the World Cup were Chile and Portugal, as Besiktas midfielder Hugo Almeida played for Portugal. I felt sad that Portugal could not make it through the group stages.
But when I heard that Almeida could sign for one of our arch-rivals, Galatasaray, I was no longer sympathetic with Portugal's plight.
I tried very hard not to miss a single World Cup game.
The Chile-Netherlands group match was at 19:00 Istanbul time. I had to leave work early to avoid the notorious Istanbul traffic to be home on time. I made up an imaginary work appointment.
I was hoping my boss would forget it. But he didn't this time. He asked about it the next day and I said I would get back to him in a few days, counting on the fact that he would forget it eventually.
But he has kept asking about it. I really don't know what to do about it now. I might have to organise this appointment for real now.
I hope Germany win the World Cup as I think they deserve to be in the final.
The best moment of the tournament for me was Brazil's elimination, as I think they had made it to the semi-finals only on the wave of their fervent home support.
The worst moments were seeing Chile and Colombia knocked out of the tournament. They just did not deserve to go out.
Farid Abbaszade, 23, Baku, Azerbaijan
Because all the games were on at night here, I would have to stay up very late and ended up being late for work or missing breakfast in the morning.
But waking up and falling asleep to football feeds me spiritually. When I was late, my team leader understood, though, because he is British.
The World Cup started off as somewhat of a failure for me, as all three of my teams - England, Portugal and Bosnia - failed to make it out of the group stages.
For the last 16 and quarter-finals, I was in Georgia and my travelling companions weren't football fans, so I had some difficulty watching the games and had to make up various excuses.
I would say I felt unwell and stay at the hotel. I also had to slide most of the 5,047m down Mount Kazbek - the third highest mountain in Georgia - at the expense of ripping my trousers to make it back to see a game on time.
Football, to me, is joy. This month, I have missed meetings with friends and hurt them, but when the World Cup is over I will ask for their forgiveness and invite them all for a belated coffee.
When the World Cup is over, I will feel very uneasy at first. I will watch recordings of some of the games a few times. Then I will start counting the days until the 2016 European Championship.
Gaib Maruto Sigit, 40, Jakarta, Indonesia
I was only interested in watching England at this tournament. England have a big following in Indonesia, because of the Premier League.
I have always loved watching them. I started rooting for them when I was in elementary school.
When I was younger I would cut out photos of the England team from newspapers and magazines and plaster the wall of my tiny bedroom.
For my 17th birthday, my mother gave me a giant, framed poster of England and the next day all of my mates dropped by to see it.
So, needless to say, I cried when England were knocked out of the World Cup.
My wife says I was in a foul mood the whole next day. I lost interest in the rest of the tournament after that.
Now that the World Cup is almost over, I can look forward to the start of the new English Premier League season.
I am planning to sacrifice a goat if Liverpool win the title this season.
Reporting by the BBC's Stephen Fottrell, BBC Azeri's Leyla Najafova, BBC Turkish's Emre Bal, BBC Indonesia's Pinta Karana and BBC Hindi's Anubha Rohatgi.