Your World Cup questions to Wyre Davies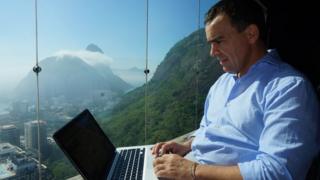 The World Cup is just a week away but Brazil has faced problems with stadium delays, overspends and civil unrest.
Is Brazil ready to stage football's biggest tournament?
BBC Rio de Janeiro correspondent Wyre Davies answered questions in a live Twitter Q&A on Thursday 5 June.
This is an edited version of the session.
Question from @nelson_toledo: Should tourists and supporters be concerned about any social unrest during the World Cup?
Wyre answers: Generally, no. There will probably be protests (in SP and Rio) but they can be easily avoided. General unrest not expected.
Question from@blesstogod: What's the assurance that the riots in Brazil will not result in indirect attacks on the guests?
Wyre answers: The gvt says it will "deal" with any protest that "threaten" the games. Petty crime is a much bigger concern for visitors.
Question from @theglydeinn: Does the turmoil currently, represent Brazil's underlining problem of inequality?
Wyre answers: Undoubtedly. The perceived spending on stadia over social projects is a big factor, but Gvt says WC spending is tiny.
Justin L emails: Will the Brazilians protest again? if so, will it affect matches?
Wyre answers: There will be protests but yesterday President Rosseff told me they would "not be allowed to disrupt matches".
Question from @AmnestyUK: Do you think #Brazil is taking human rights concerns around #WorldCup2014 seriously?
Wyre answers: May be a democracy but big human rights problems especially in rural areas. The Government won't make it an issue though - keen to avoid.
Question from @BrandenAsemah: What or who will decide if #2014brazilwc is a success?
Wyre answers: It'll be "declared" a success already! If smart Brazil will learn from mistakes ahead of Rio 2016.
Question from @alecherron: Does the world focus too much on Rio and ignore the rest of Brazil? (in radio programmes, documentaries, etc.)
Wyre answers: Yup. A huge, diverse country. One great thing about the World Cup is its geographical spread across Brazil.
Question from@funkydudedave: Why do Brazilians like to put dessert toppings on Pizzas?
Wyre answers: Shocking! But the kids love it. Pizza Rodizio (savoury pizza followed by sweet) is the worst! Unforgivable.
Richard emails: How many stadia are unfinished and how big is the work required to bring them up to standard?
Wyre answers: Six out of 12 stadia were late. Sao Paulo venue for opening match being "worked on". Wiring, wi-fi, access, facilities not fully tested.
Question from@Leozinho_1886: There have been several police strikes recently. What are the chances of them doing this over the World Cup?
Wyre answers: Could be a HUGE problem. Gvt doing deals with police over pay but strikes have led to unrest in regions.
Question from @jwc2325: Do you think brazil is looking more at the Olympics to be ready and has the World Cup come too soon?
Wyre answers: Olympics team here often distance themselves from the World Cup, but could make similar mistakes.
Question from @Lioninha: What advice would you give to the foreigners that are coming to the #WorldCup2014?
Wyre answers: Violent crime is biggest concern. Avoid wearing valuables, don't resist muggings & don't overdo alcohol. Lots of cops though.
Question from @jrcavallaro: Is Brazil putting its army to patrol the cities where games are happening?
Wyre answers: Yes, the army might be out in some pinch areas but they're not dealing directly with trouble. (military cops do that).
Rita Bosco via Facebook: This World Cup is a shame. Our money spent on stadiums and people waiting in line for a doctor.
Wyre answers: The Government says at 1% spending on World Cup compared to overall health and education budget. But the perception is that public money being wasted.
Question from @SamShankman: Is discontent on the ground being played up in media? Are claims that the games won't happen overblown?
Wyre answers: Games will happen as pitches are ready. Will be problems and delays around the "edges". Give yourself time.
Question from @Rawlings03: What would be the legacy of the sporting facilities built, after the World Cup?
Wyre answers: The Government's view is that without the World Cup, some facilities wouldn't be there, so all positive, they say.
Glenn emails: What is it in England's psyche that allows them to think they are the greatest team on Earth?
Wyre answers: Problem with England, (compared say to Brazil), actually might be lack of confidence & inability to open up on the big stage.
Question from @MSavarese: When is Wales playing in the World Cup again? ;-)
Wyre answers: Only time I cried over football was when we failed to qualify for '94. With Bale & Ramsey it WILL happen. Cymru!
For more tweets from Wyre Davies you can follow his Twitter account.
Keep up-to-date with the latest stories from Brazil by Wyre.
Twitter Q&A produced by Andree Massiah