Tiananmen Square protests: Your stories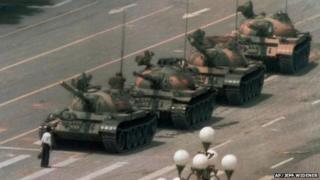 A young man stands, his hands by his side, in Tiananmen Square. A tank, one of many, rolls steadily towards him. The man doesn't move.
This moment became the symbol of events in June 1989 in China's capital, Beijing. We want to hear from you about what you remember of that time and how if affected you.
In the weeks before June 4, people from across China - mainly students - gathered in Tiananmen Square as part of a pro-democracy movement. At first they met to mourn the death of the liberal Party leader, Hu Yaobang but demonstrators soon began to call for greater democracy, an end to official corruption, and even the overthrow of the Party.
The world watched as the movement ended on 4 June 1989 with the declaration of martial law by Deng Xiaoping and other Party elders. Troops and tanks of the People's Liberation Army and People's Armed Police cleared Tiananmen Square. Several hundred unarmed people around Beijing's most famous square were reportedly killed, although there is no official death toll.